Allied Health AAS
Academic Map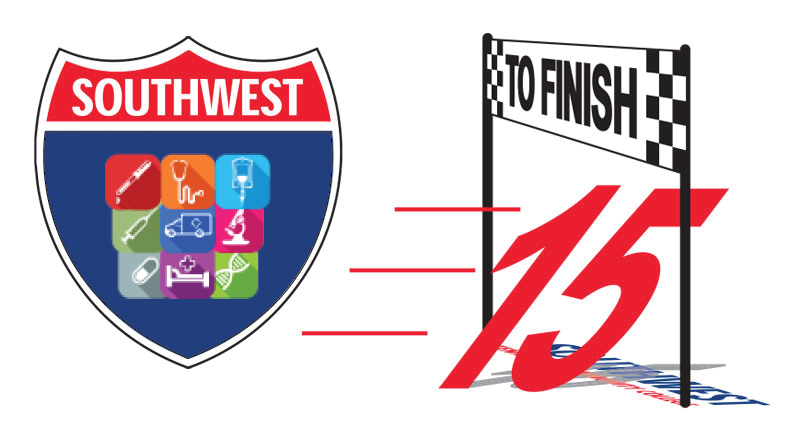 FIRST SEMESTER
STUDENT HAS ONE OR MORE OF THE FOLLOWING TECHNICAL:
Emergency Medical Technician – Basic (16 hours)
Emergency Medical Technician – Advanced (16 hours)
Food Preparation, Safety and Service Technical Certificate (25 hours)
Laboratory Phlebotomy Technician Technical Certificate (18 hours)
Pharmacy Technician Technical Certificate (31 hours)
SECOND SEMESTER
Course
Notes
Credits
mc
ENGL 1010
English CompI
3
MATH 1530
Intro Statistics
3

ALHS2311 Management & Leadership for Healthcare Supervisors

Online Only
3

ALHS 1020 Medical Terminology

Online Only
3
PHIL 1040
Intro to Ethics
3
Semester Credits
15
THIRD SEMESTER
Course
Notes
Credits
mc
PSYC 1030
Intro Psychology
3

ALHS 2313 Special Topics in Healthcare Docuentation

Online Only
3
HPER 1570
Wellness Perspectives
3
SOCI 1040
Social Problems
3
COMM 2025
Fund. of Speech Comm.
3
Semester Credits
15
FOURTH SEMESTER
ADDITIONAL DEGREE REQUIREMENTS: 10-32 SEMESTER HOURS
In addition to the 15 hours in general education core classes, and the 15 hours in major core requirements, students may apply the credits from their allied health technical certificates (listed in box above).

The length of the technical certificate or certificates applied to this degree, will dictate how many additional credits the student will need. A student needs at least 60 credits (15 in general education) in order to earn an AAS degree from Southwest.

When the technical certificate(s) and the 30 hours required in gen.ed and major core classes, do not equal 60, then students may select from the following list of electives to bring their credit total to 60 hours: (Grades of "C" or better are recommended)

HLTH 1050 Personal Health Preferred for Healthcare Professionals:
HLTH 2210 Health, First Aid, and Safety PSYC 2130 Life Span Psychology
PSYC 2120 Social Psychology BIOL 1230 Microbiolgy
SSCI 2990 Special Topics in Social Sciences BIOL 2010 Human Anatomy and Physiology I
BIOL 1010 Introduction to Biology I
BIOL 1020 Diversity of Life
BIOL 2020 Human Anatomy and Physiology II
To stay on track, these courses must be taken in order.
General Advising Notes
Consult the academic map index for a list of previous maps.
2019-2021
This program is not designed to transfer.
General Advising Notes
This degree is for students who are enrolled in or already have a Technical Certificate in an Allied Health Area AND want to continue their education to receive an Associate of Applied Sciences Degree.
ENGL1010 and ENGL 0810
ACAD 1100 and READ 0810
MATH 1530 and MATH 0530