Hospitality Management Food & Beverage Management AAS
Academic Map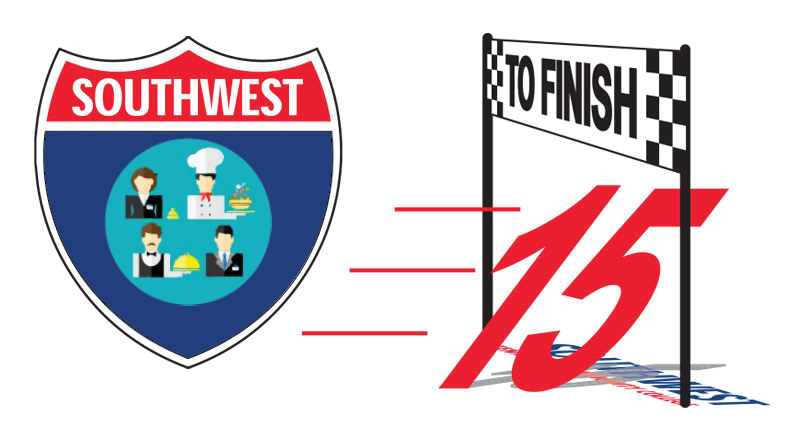 FIRST SEMESTER
Course
Notes
Credits
mc
HMGT 1020
Fundmentals of Guest Service in Hospitality
1
HMGT 1030
Intro to Hospitality Mgmt
3

Milestone Course

CULA 1200
Sanitation and Safety
2
CULA 1320
Culinary Fundamentals I
3
ENGL 1010
English Comp I
3
MATH 1530
Intro to Statistics

Successive Courses

3
Semester Credits
15
SECOND SEMESTER
Course
Notes
Credits
mc
HMGT 1050
Hospitality Information Systems
3
HMGT 1130
Supervision in the Hospitality Industry
3

Milestone Course

HGMT 1170
Marketing for the Hospitality Profession

Successive Courses

3
COMM 2025
Fund of Comm
3
INFS 1010
Computer Applications
3
Semester Credits
15
THIRD SEMESTER
Course
Notes
Credits
mc
HMGT 1150
Basic Accounting in Hospitality Industry
Prereq:
MATH 1530
3
HMGT 1180
Hospitality Human Resources Management
3
HMGT 2040
Principles of Tourism
3

Milestone Course

CULA 2310
Food and Beverage Management
3

Milestone Course

PICK ONE:
Humanities / Fine Arts
3
Semester Credits
15
FOURTH SEMESTER
Course
Notes
Credits
mc
HMGT 2230
Risk Reduction in the Hospitality Industry
3
HMGT 2240
Managerial Acctg for Hospitality Industry

Successive Courses

Prereq: HGMT 1150
3
HMGT 2910
Hospitality Management Internship
3
CULA 2475
Purchasing and Cost Control
3
PICK ONE:
Social/ Behavioral Sciences
3
Semester Credits
15
To stay on track, these courses must be taken in order.
General Advising Notes
Consult the academic map index for a list of previous maps.
2021-2022
This program is not designed to transfer.
General Advising Notes
New hospitality students should always enroll for Introduction to Hospitality Management in their first semester.
Make sure you check your e-mail regularly for important program information.