Devoted to the college and career goals of students
Achieving the Dream (ATD) is a national education reform network of more than 220 colleges, each committed to helping students achieve their college and career goals. ATD leads colleges through a transformative, evidence-based change process designed to enable more students to earn credentials, improve their economic prospects and support their communities.
Colleges participating in ATD have a focus on equity, closing achievement gaps and increasing graduation rates with an emphasis on low-income students, first-generation students and students of color—groups that have been traditionally underserved at all colleges.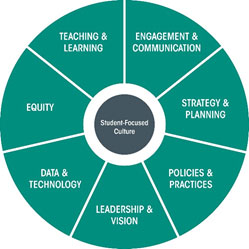 In 2016, Southwest joined ATD and began the Redesign, Reinvent and Reset Southwest movement. President Tracy D. Hall charged the college to develop a "big audacious goal" of redesigning itself with student-centered processes. Over the next two years, 22 committees worked to redesign processes from recruiting to graduation, all focusing on equity and student success. This work resulted in the Focus 2025 Strategic Plan that will guide the College toward the future while ensuring we all have the shared vision of student success.
As Southwest works to fulfill the Focus 2025 Strategic Plan, we continue to build upon ATD's Institutional Capacity Framework that focuses on strengthening the College in seven core capacities:
Student-Focused Culture
Teaching and Learning
Engagement and Communication
Strategy and Planning
Policies and Practices
Leadership and Vision
Data and Technology
Equity
For more information on ATD at Southwest, please contact Sindy Abadie at csabadie@southwest.tn.edu.