Come join the Science Club as we observe Earth Week with our 7th Annual Earth Day Dash 5K run/walk on our Macon Cove Campus in Memphis, TN.
By Science Club
How to Register
Register online at Earth Day Dash Virtual 5K Registration.
When and where

Date and time
Thu, April 13, 2023, 8:15 AM – 12:00 PM CDT
Location
Southwest Tennessee Community College – Macon Cove Campus
5983 Macon Cove
Memphis, TN 38134
Refund Policy
No Refunds
About this event
About this event
Hello everyone! Southwest Tennessee Community College Science Club will host our 7th Annual Earth Day Dash 5K Run/Walk on our beautiful Macon Cove Campus.
Theme: Invest in Our Planet: Tennessee Native Plants
What: This event is to bring awareness to environmental issues locally and globally. The 5K route will be on the college campus. After the race, you will have the opportunity to browse our expo of local environmental organizations and student organizations.
When: Thursday April 13, 2023 in person. Registration will begin at 8:15am to complete hold harmless forms. Race will begin at 9:00am.
Where: Starting line is located between the Fulton Building and Nabors Building at the clock on Macon Cove Campus. (view map below)
Why: To bring awareness to our beautiful earth as we encourage preserving our native plant species in Tennessee. Proceeds from the dash will assist the club's initiative of college-wide awareness programs.
COST: $10, which includes your official race bib.
Commemorative t-shirts are available for purchase until March 22, 2023. General admission ends April 12, 2023 at 11:59pm. Commemorative shirts and race bibs will be mailed to registrants prior to the event. If you choose not to purchase a commemorative shirt, you will be able to pick up your race bib at the event before the race.
Waiver Form
Each runner will need to fill out a waiver in order to participate. Please download the waiver, fill it out, and bring it to the race.
Click here to download the waiver.
Disclaimer
Partaking in a fitness challenge is no mean feat, please be aware of your fitness levels and don't put yourself under any unnecessary strain that could cause yourself injury.
Weather and surface conditions change sometimes on an hourly basis. Please be cognizant of your surroundings and be prepared for any eventuality.
In signing up for and paying the entry fee you indemnify the Science Club and Southwest Tennessee Community College and will not hold them or anyone associated with accountable for any accident or injury to yourself or others or damage to property, personal or other while partaking in this physical event.
Earth Day 5K Dash Volunteers
Interested in volunteering? We need volunteers to make this a safe and exciting event. If you would like to volunteer, please complete the Earth Day Dash 5K volunteer form by April 1, 2023..
Race Map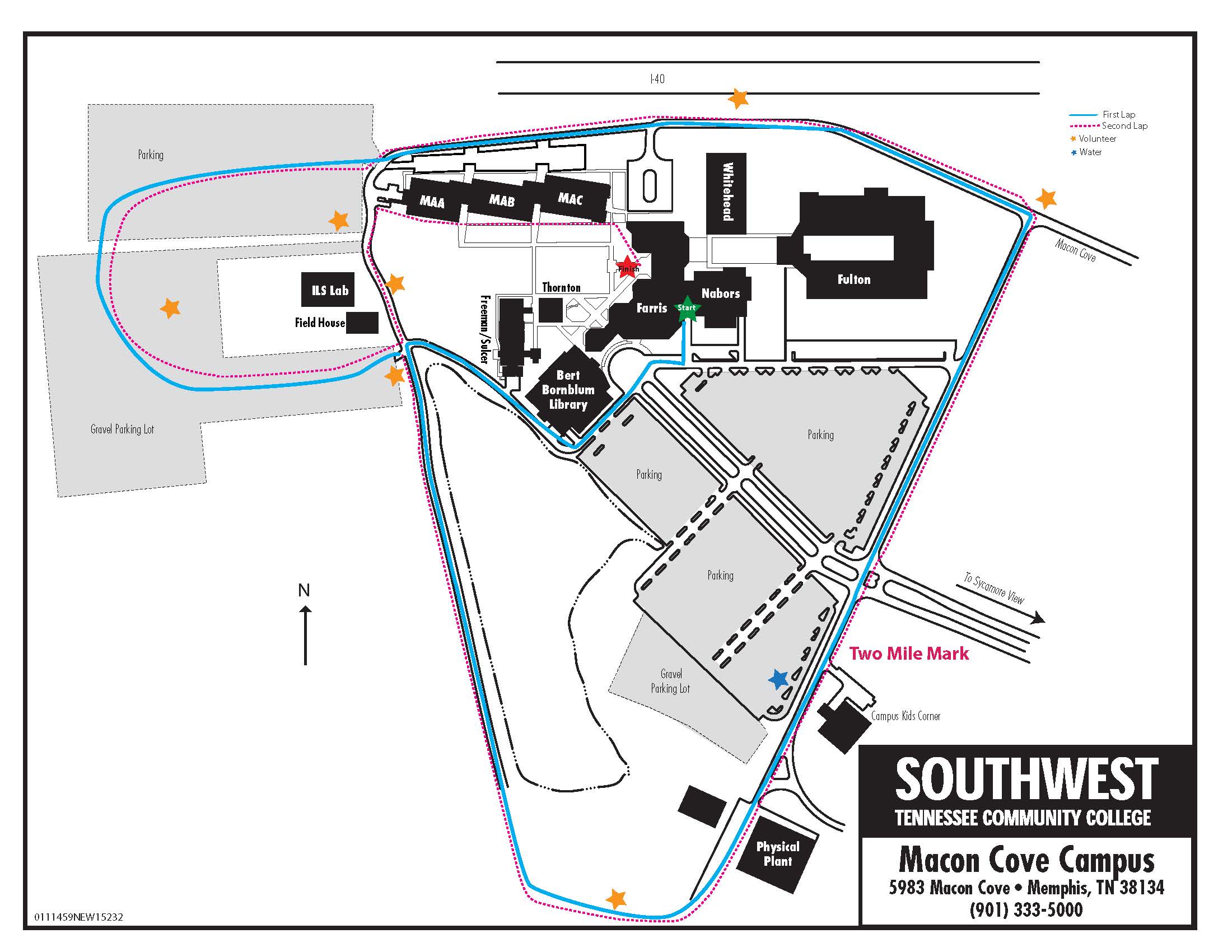 * *To guarantee timely arrival of your dash materials, please register on or before March 19, 2023 by 11:59pm. All participants who register by this date with purchase of a t-shirt, will receive their race bibs and t-shirts by US postal service prior to the event. You may register until April 13, 2023, but t-shirts sales will be closed.
Related Links
Contact For More Information
Dr. Joyce Johnson
901-333-6057
Rosie Taylor
901-333-6466