Runners and walkers of all ages are invited to celebrate Earth Week by participating in the sixth annual Earth Day Dash, a Virtual 5K Run/Walk benefitting Southwest's Science Club, April 17-22, 2022. This year's theme, "Invest In Our Planet," focuses on taking action against climate change to protect and preserve the planet and build a sustainable future. Join us as we explore environmental issues and celebrate our planet!

The Science Club is a student organization with a mission to advance the learning and appreciation of the field of science and the environment, encourage innovation and sharing of ideas, and emphasize the biological diversity and unity of life. The event brings awareness to environmental issues in our local community. Proceeds from the dash will assist the club's ability to continue its mission and goals for Southwest students.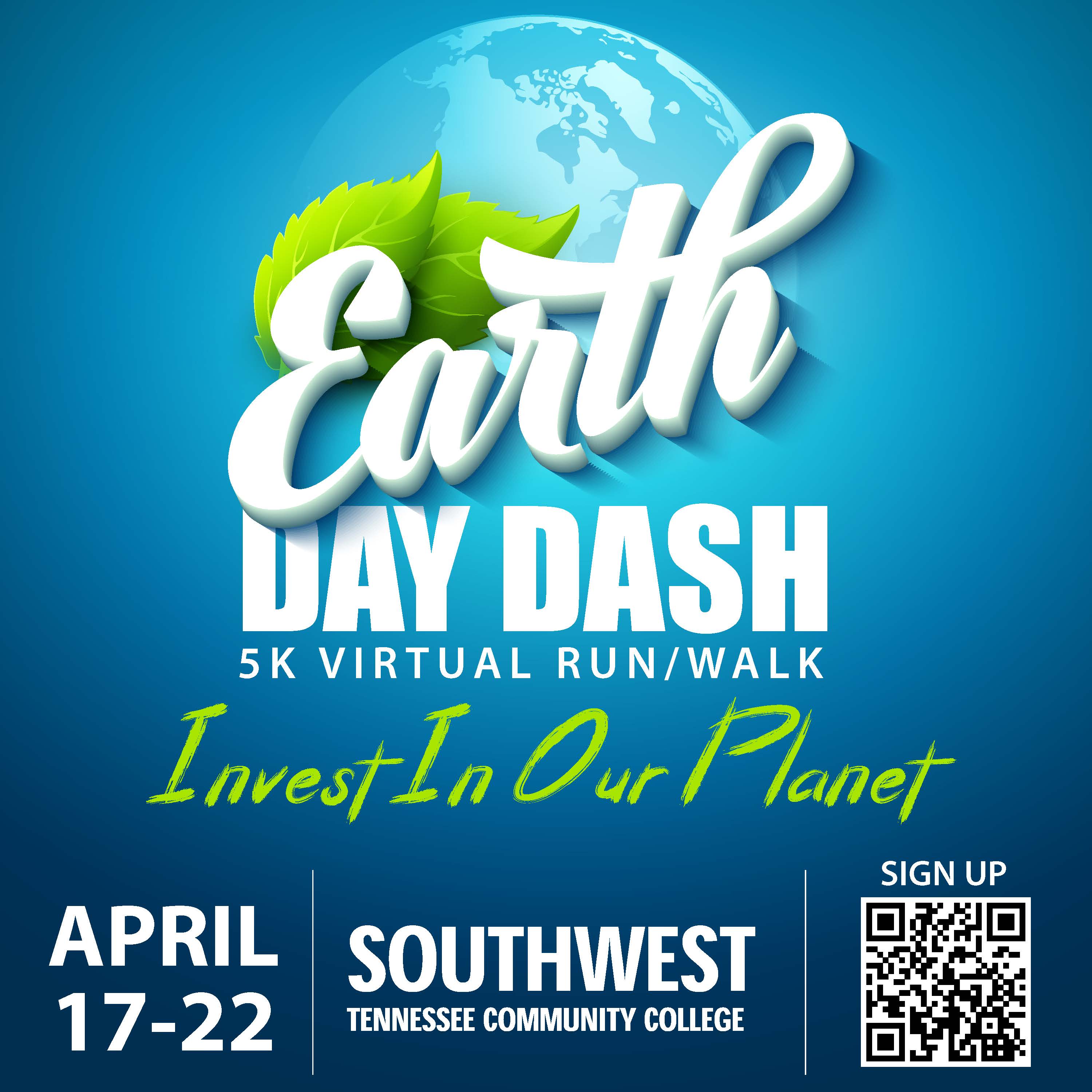 What is the Virtual Earth Day Dash?
Here is how it works…
Register to secure your spot.
Get your gear mailed to your place of residence.
Run/Walk the distance on your own or with your family/friends, on a course of your choosing or treadmill. Feel free to use your favorite tracking app or clock/watch to record your time and distance.
Share your results on Southwest's Facebook page at @SouthwestTN using the hashtag #SouthwestEarthDayDash2022! To submit your results, take a photo of your tracking device or clock/watch displaying your results and include your full name in your FB post using the hashtag. Feel free to add a photo of you running or walking. We want to see your accomplishments and participation! Submit your results during Earth Week April 17-22, 2022.
How to Register
Register online at Earth Day Dash Virtual 5K Registration.
Registration Deadlines:
Participants interested in receiving a commemorative, unisex t-shirt must be registered on or before Monday, March 28, 2022, at 11:59 p.m. The t-shirt will be mailed to the address you listed on the registration form. Dash materials will be mailed two weeks prior to the event so don't delay and register today! You may register after March 28 to participate in the 5K, however you will ineligible for a t-shirt.
Event Cost:
Cost: $10 for the 5K Run/Walk fee. Commemorative t-shirt prices range from $10-13.00 depending on size.
Disclaimer
Partaking in a fitness challenge is no mean feat, please be aware of your fitness levels and do not put yourself under any unnecessary strain that could cause yourself injury.
Weather and surface conditions change sometimes on an hourly basis. Please be cognizant of your surroundings and be prepared for any eventuality. Whether that be altering your route, taking more fluids with you, or even postponing for another day.
In signing up for and paying the entry fee, you indemnify Southwest's Science Club and Southwest Tennessee Community College and will not hold the club, college or anyone associated with these entities accountable for any accident or injury to yourself or others or damage to property, personal or other while partaking in this virtual event.
For more information about Earth Day Dash, contact Joyce Johnson at jdjohnson7@southwest.tn.edu / 901-333-6057 or Rosie Taylor at rdtaylor@southwest.tn.edu / 901-333-6466.
Related Links
Contact For More Information
Dr. Joyce Johnson
901-333-6057
Rosie Taylor
901-333-6466