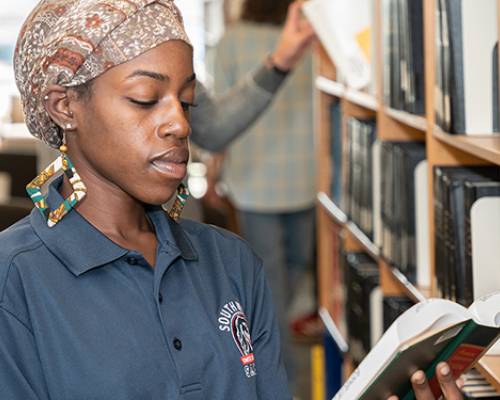 Welcome to the Language and
Literature Department
Language and Literature offers courses to enrich your academic and personal life and to advance your career. Studies include modern languages, literature, film, creative writing and learning support.
Programs of Study
Do you plan to transfer to a four-year institution to earn a bachelor's degree in any of the areas listed on the Degrees and Certificates page? You may follow the sequence of general education and elective courses outlined in each section. Completing these courses will earn an Associate of Arts or Associate of Science degree from Southwest.
Co-Requisite Remediation
Southwest offers co-requisite remediation. This means students can complete any needed remediation courses at the same time as they take college-level courses. Co-req remediation pairs a support course with a college-level course for a semester, and students earn six credit hours for the combined courses. Co-req remediation replaces former models that delayed entrance into college-level work for one or more semesters.
Co-req remediation is offered in English, Math, and Reading for students whose ACT (or equivalent) scores point to a need for remediation with college-level work. Some students are enrolled in certificate or degree programs that do not require the General Education courses offered through co-req remediation (college-level math or SPCH 1010). If you are one of these students who require remediation, you must still clear these deficiencies. In such a case, you should contact the Math or Languages and Literature departments for questions.
Note: See the Understanding Your ACT Test Scores page for more information.
Program and Course Information
To find out more about courses offered at Southwest, you can use our Catalog Search to view descriptions of our courses. Use the Interactive Course Schedule to see when and where a class is being offered.
Contact Us
Dustin Williams, Interim Department Chair
Macon Cove Campus Whitehead Building, Room 23
901-333-4597
901-333-4330
Union Avenue Campus E Building, Room 223
901-333-5208
901-333-5212