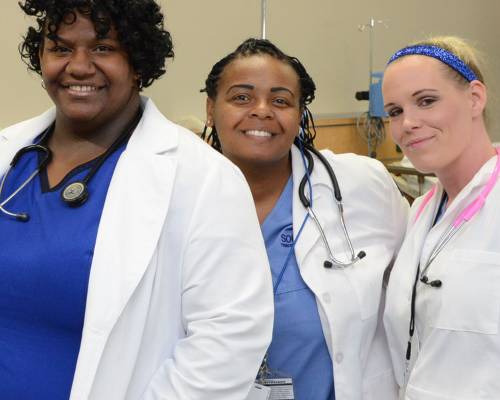 Enroll in our Nursing Program and take the first step toward your new career
The Southwest Nursing Program is highly individualized and blends classroom instruction with excellent hands-on experience in a variety of health care settings.
One of the most sought after careers is nursing. If you're interested in becoming a front-line health care professional, this program is for you. Southwest offers lecture and clinical courses leading to an Associate of Applied Science (A.A.S.) degree in Nursing.
Graduates of this program are eligible to take the National Council Licensure Examination for Registered Nurses (NCLEX-RN). Our Nursing Program is designed to prepare graduates for successful licensure and immediate employment in this high demand field.
Southwest offers two program options for this degree:
The Generic Track (day program admits every fall and evening/weekend program admits every spring).
The LPN Mobility Track is designed for currently licensed practical nurses seeking to transition into the role of registered nurse (day program that admits every summer).
CONTACT US: During the COVID-19 health crisis, we are working remotely and are able to respond to email much faster.
NLN TESTING: Our Testing department is working with the National League for Nursing to accommodate admissions testing. Please check that webpage to schedule the exam.
The Associate Degree nursing program at Southwest Tennessee Community College, located in Memphis, TN is accredited by the:

Accreditation Commission for Education in Nursing (ACEN)
3390 Peachtree Road NE, Suite 1400 Atlanta, GA 30326
(404) 975-5000
The most recent accreditation decision made by the ACEN Board of Commissioners for the Associate Degree nursing program is Continuing Accreditation. View the public information disclosed by the ACEN regarding this program at
http://www.acenursing.us/accreditedprograms/programSearch.htm.
The Nursing Program is located on the Union Avenue Campus. It is convenient to downtown and midtown Memphis.
In addition to high impact practices used in the class, clinical requirements are met using a variety of health care delivery settings.
To find out more about courses offered at Southwest, you can use our Interactive Course Schedule to see when and where a class is being offered.
Upon completion of our Associate Degree Nursing Program, the graduate is eligible for licensure as a registered nurse and can assume the role of a registered nurse. Upon completion of the program the graduate will also be able to perform the following:
Provide safe, culturally sensitive care to clients across the life span utilizing the nursing process substantiated by evidence-based practice guidelines.
Collaborate with the client to develop, implement, evaluate, and modify client's care plan based on changing client needs, and health care practices and guidelines.
Utilize the science of informatics for current and appropriate practice guidelines to meet the client's physical, emotional, and spiritual health care needs while ensuring the client's individual rights to privacy and quality health care in an ever changing technological environment.
Coordinate with the client and inter-professional team members to facilitate the client's efforts to self-determination to meet basic needs and achieve desired health outcomes.
Utilize leadership, management, and communication skills to advocate for client's rights to quality health care regardless of race, gender, cultural background or socio-economic status.
Demonstrate accountability for personal and professional growth and nursing practice within the legal and ethical framework of nursing practice standards.
Program Outcomes
Sixty percent of entering nursing students will graduate with an Associate of Applied Science Degree in Nursing.
Eighty-five percent of nursing graduates will pass the National Council Licensing Examination for Registered Nurses (NCLEX-RN) examination on the first attempt.
Ninety percent of nursing graduates will be employed in nursing within six months of licensure.
Seventy-five percent of employers surveyed will express satisfaction with Southwest Nursing graduates.
Nursing Program Data
| Year | Graduation Rate | Employment Rate | Responding Employers Satisfied with Graduates | NCLEX Pass Rate |
| --- | --- | --- | --- | --- |
| 2022 | | | | 67 percent |
| 2021 | | 86 percent | | 80 percent |
| 2020 | | 91 percent | | 88 percent |
| 2019 | 54 percent | Not available | Not available | 92 percent |
| 2018 | 58 percent | 97 percent | 100 percent | 80 percent |
| 2017 | 58 percent | 97 percent | 100 percent | 85 percent |
ARTICULATION AGREEMENTS
The University of Tennessee Health Science Center (UTHSC) College
Southwest students who complete a minimum of an Associate Degree in Allied Health or General Studies and prerequisite courses with a minimum overall combined 3.0 GPA have the opportunity to continue their education toward a bachelor's degree. In partnership with The University of Tennessee Health Science Center (UTHSC) College, through its Nursing Partnership Enrollment Program (PEP), any Southwest students who fulfill the requirements of the PEP are guaranteed full admission to the traditional BSN program at UTHSC. To learn more about the program and qualification, visit https://uthsc.edu/nursing/partnership-enrollment-programs.php.
Contact Us
Union Avenue Campus Nursing, Natural Sciences, and Biotechnology Building, Suite 104
901-333-5425
901-333-5443

Dr. Sheila Bouie, Department Head

Deborah Whitelo, Secretary