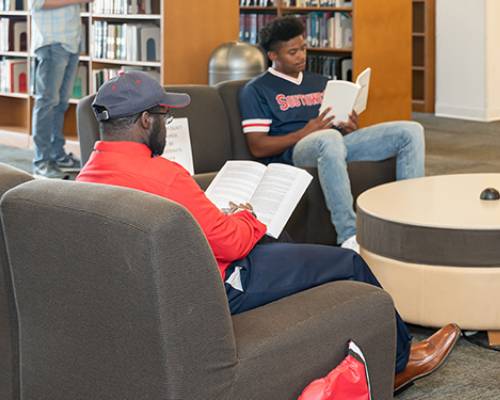 This program offers a highly challenging curriculum designed for new, career-changing, and diverse students. Paralegal Studies prepares you to become an essential part of a legal team.
The Southwest Paralegal Studies Program is designed to provide students with:
A focused, practical-skills based curriculum to prepare for a challenging career as a paralegal;

A convenient time frame for classes;

Guidance to support your pursuit of the degree; and

A foundation to pursue further study of the law.
Program of Study
Paralegal Studies gives you the chance to learn important aspects of the law and to gain the practical skills needed to be a successful paralegal. Students who successfully complete the program will earn an Associate of Applied Science Degree (A.A.S.) in Paralegal Studies.
Program and Course Information
To find out more about courses offered at Southwest, you can use our Catalog Search to view descriptions of our courses or the Interactive Course Schedule to see when and where a class is being offered.
Academic Map
Limitation on Legal Specialty Courses Transferable to the Paralegal Studies Program
The maximum number of legal specialty course credit hours a student may transfer to the Associate of Applied Science degree in Paralegal Studies is nine-credit hours.
If you want to transfer legal specialty credit hours, they must have been earned from a fully accredited institution of higher learning. Also, the Paralegal Studies program coordinator or a qualified full-time faculty member must approve the hours to ensure the credit can be classified as legal specialty and is comparable to courses offered within the program.
The Paralegal Studies program does not award legal specialty credit by examination or portfolio.
Paralegal Studies students are required to take at least nine semester credits or the equivalent of legal specialty courses through synchronous instruction.
Note: Paralegals may not provide legal services directly to the public except as permitted by law.
Contact Us
Gwynne Hutton, Program Coordinator
901-333-4136
Macon Cove Campus Academic Building, Wing B, Room 253A

Niki Free, Secretary
901-333-4130
901-333-4377
Macon Cove Campus Academic Building, Wing B, Room 271
901-333-5409

Teresa White, Secretary
Union Avenue Campus Allied Health [H] Building, Room 106
901-333-5400
901-333-5410