Governor Bill Lee escalates calls for Tennesseans to remain at home
By Sherman Greer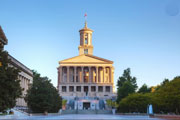 Governor Lee on Thursday issued Executive Order No. 23, effective until April 14, 2020, stepping up his calls for Tennesseans to stay home.
The Governor noted, "there is clear evidence that some citizens are beginning to disregard safer-at-home efforts," prompting him to issue the expanded order. Lee further noted that after a steep decline in vehicle travel over the last few weeks, the Tennessee Highway Patrol shared with him data demonstrating that as of March 30, 2020 vehicular traffic was returning to pre-COVID levels. He also reported that cell phone data obtained by Unacast, showed similar trends earlier in the week. Unacast is a company that tracks cell phone data patterns anonymously.
In addition to Executive Order No. 23, Executive Order No. 22 remains in force with businesses declared essential continuing to operate.