Nearly 500 residents vaccinated this weekend at Whitehaven Center
By Daphne Thomas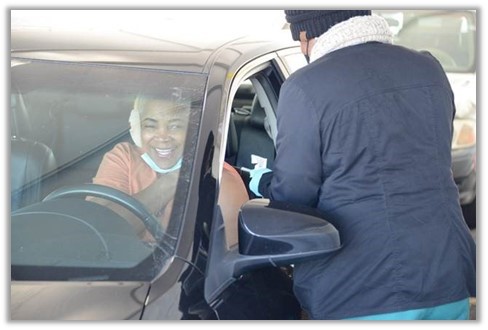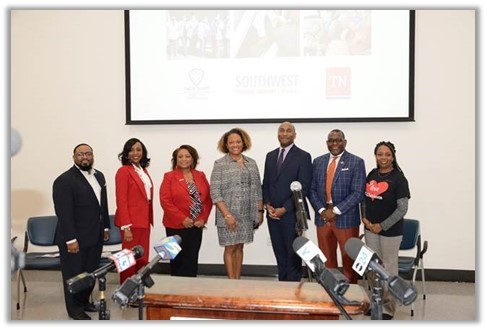 Shelby County Mayor Lee Harris, Shelby County Health Department Director Michelle Taylor and other community leaders joined President Tracy D. Hall this past weekend to urge residents to get vaccinated and announce the reopening of the Whitehaven Center Vaccination Site at 1234 Finley Rd. "If you don't want to do it for yourself, do it for your children, your parents, your friends and your community," St. Paul Baptist Church Pastor Christopher Davis said during a press conference at the center that was widely attended by local media.
Nearly 500 residents were vaccinated during the site's first reopening weekend. Free vaccinations are available to eligible residents Fridays, 9 a.m. – 6 p.m. and Saturdays, 9 a.m. – 1 p.m. President Hall says Southwest was honored to be asked to help deliver the lifesaving vaccine once again. "You have often heard me say that we are the community's college," she told the crowd and throng of media. "Never has this noble purpose been more critical or apparent than when we received the call to join the fight against COVID-19. Nearly 40,000 inoculations against the coronavirus were administered right here at the Whitehaven Center during the six months the vaccination site was open. We were proud to assist the local, state and federal government agencies in this effort and look forward to serving once more."
Southwest strongly encourages everyone to get vaccinated, wear masks, frequently wash hands and sanitize and socially distance. Stay tuned for updates on our COVID-19 response online, via email and by phone. Sign up for Southwest's Emergency Messaging System, also known as Rave, and follow us on Facebook, Instagram and Twitter at @SouthwestTN.