Virtual financial aid assistance offers live support for students
By Suzanne Gibson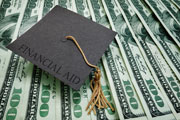 The financial aid office at Southwest Tennessee Community College now offers a virtual solution for students who need help getting answers to their financial aid questions from a live representative. Students are able to speak to a live counselor at Virtual Financial Aid Assistance, Monday through Thursday, 8:00 a.m. to 8:00 p.m., and on Friday, 8:00 a.m. to 4:30 p.m.
Additionally, the office is hosting a variety of scheduled sessions that address issues like verification, satisfactory academic progress, TN Promise, TN Reconnect and Federal Work-Study. To access the financial aid sessions and find available dates, visit http://www.southwest.tn.edu/financial-aid/.
"Many of our students receive federal funding and often do not have the assistance they need at their fingertips to complete the necessary requirements," said Keneshia Seals, enrollment services specialist. "Being granted instant virtual access eases some of the stress that comes with waiting for an email response or a call back. Students can still receive the one-on-one assistance that they once received on campus. We also have been able to extend online hours of operation to better accommodate those students who may work late shifts," Seals said.
When logging on to speak to a live financial specialist, students are placed in chat rooms. If rooms are full, there is a brief hold until the next specialist is available. Meetings typically do not last more than thirty minutes, and private appointments can be scheduled.
For more information, contact Interim Director of Financial Aid Melanie Johnson at financialaid@southwest.tn.edu or 901-333-5960.
Note: Family Educational Rights and Privacy Act (FERPA) agreement and supporting documentation must be submitted by students to the Registrar's Office in order for counselors to speak with parents or other individuals about their personal student account information.