Memphis Mayor honors Verneta Boone with MLK Luminary Award
By Daphne Thomas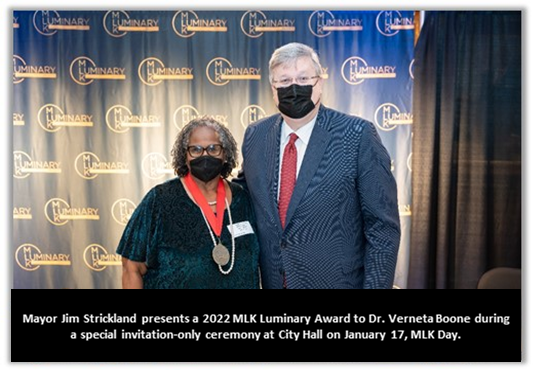 Congratulations to Whitehaven Center Director Vernita Boone on her esteemed recognition as a 2022 MLK (Martin Luther King) Luminary Award winner. Memphis Mayor Jim Strickland presented the award during a special ceremony at City Hall, citing Boone's invaluable leadership in managing the Covid-19 vaccination center at the Southwest Tennessee Community College Whitehaven Center. She was among this year's honorees that included healthcare professionals and civic leaders who were singled out for their exemplary leadership and service to patients and the public during the pandemic.
Boone says it was a privilege to help deliver the lifesaving vaccine to the Memphis community and the Whitehaven neighborhood. "This was a team effort start to finish and this recognition is the result of the dynamic leadership at Southwest, the amazing Whitehaven Center team and our partners. I am truly honored."
At the onset of the pandemic, vaccination sites like the one at the Whitehaven Center were instrumental in reaching underserved populations in Memphis and Shelby County. When the Whitehaven Center vaccination site opened in February 2021, Southwest became the first community college in Tennessee to offer drive-thru vaccination service. Dr. Boone and her team partnered with Shelby County Health Department, City of Memphis and federal agencies to administer nearly 42,000 Pfizer vaccinations during the 6-month operation.
"Dr. Boone is an extraordinary leader who operated a smooth vaccination site that was known for its exemplary customer service," Southwest Tennessee Community College President Tracy D. Hall said. "She truly deserves this prestigious recognition. We are so proud of her and are fortunate to have her on our team."
Watch the MLK Luminary Award ceremony on-demand here: https://bit.ly/3rs9pDt.