Carpenter Primary Healthcare PLLC Lands Top Entrepreneurship Award from TSBDC
For more information, contact:
Brenda J. Rayner
901-333-4247
bjrayner@southwest.tn.edu
The owners of Carpenter Primary Healthcare PLLC, Dr. Terri Carpenter and Ken Carpenter were awarded the 2015 Memphis Rising Star Award from the Tennessee Small Business Development Center (TSBDC) at Southwest Tennessee Community College. Rory Thomas, executive director of TSBDC at Southwest, will present the award to the Carpenters, both Tennessee State University (TSU) alums, during the TSU's Starry Nights Alumni Gala on December 19 at the Hilton Memphis.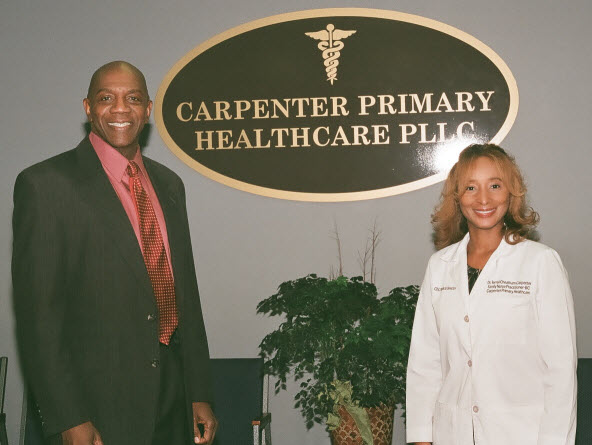 Pictured are Dr. Terri Carpenter (R) and Kenneth Carpenter, owners of Carpenter Primary Healthcare PLLC.
The Rising Star award is given annually by the TSBDC to the company that best exemplifies not only business success while creating a positive impact in the community, but also that has an outstanding working relationship with the TSBDC and its partners.
Dr. Carpenter stated, "The staff at the TSBDC and City of Memphis Renaissance Business Center enriched us with the necessary programs and support that provided Carpenter Primary Healthcare, PLLC with the foundation to enter the world of business. Due to their availability, willingness and concern to share their expertise, we are able to achieve our goals in the community we serve."
Founded in February 2015 to address the need for quality primary care in the underserved Whitehaven community that the Carpenters love and reside in, Carpenter Primary Healthcare has already served hundreds of patients, created several new jobs and continues to offer free healthcare screenings to individuals in the community each month.
In giving the award, the TSBDC is also recognizing the entrepreneurial spirit in the Memphis community. "Carpenter Primary Healthcare is another great example of people wanting to start a business to make a positive contribution to the local business and economic environment," said Thomas.
For more information about Carpenter Primary Healthcare PLLC, call 901-348-6426 or visit www.carpenterprimaryhealthcare.com. For more information on TSBDC, visit www.tsbdc.org or call Rory Thomas at 901-333-5085.