Carpenter Primary Healthcare PLLC Wins 2016 Tennessee Minority Business of the Year Award
For more information, contact:
Brenda Rayner
901-333-4247
bjrayner@southwest.tn.edu
Carpenter Primary Healthcare PLLC owned and operated by Dr. Terrell (Terri) Carpenter and Ken Carpenter will be recognized as the 2016 Tennessee Minority Business of the Year by the U.S. Small Business Administration (SBA) during National Small Business Week which is held from May 1-7.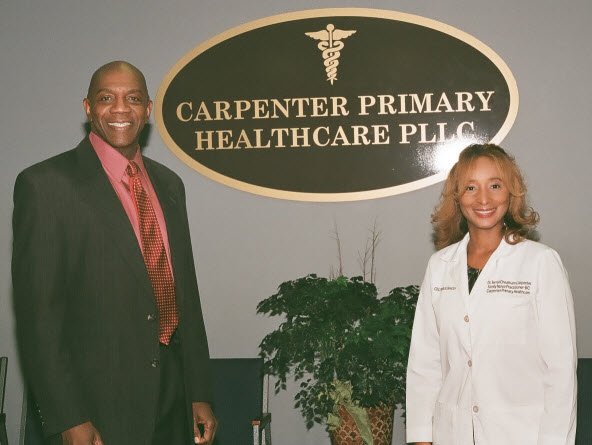 Pictured are Dr. Terri Carpenter (R) and Kenneth Carpenter, owners of Carpenter Primary Healthcare PLLC.
The SBA Tennessee District Office will present the Carpenters with the award during the Tennessee Small Business Week Awards ceremony on Thursday, May 5, in Nashville at the SBA District Office, 2 International Plaza Dr. Suite 500, Nashville, TN 37217 from 9-1l a.m. Central.
Founded in February 2015 to address the need for quality primary care in the underserved Whitehaven community where the Carpenters live, Carpenter Primary Healthcare has already served hundreds of patients, created new jobs and continues to offer free healthcare screenings to individuals in the community each month.
Rory Thomas, executive director of the Tennessee Small Business Development Center (TSBDC) at Southwest Tennessee Community College, nominated Carpenter Primary Healthcare for the award. "I'm very excited to have a minority-owned business in Memphis earn this prestigious statewide award. Carpenter Primary Healthcare in its short existence has already made significant economic contributions to our community," said Thomas.
The Carpenters credit the TSBDC and the City of Memphis programs for assisting them in achieving early success. Dr. Terri Carpenter stated, "The staff at the TSBDC and the City of Memphis Renaissance Business Center enriched us with the necessary programs and support that provided Carpenter Primary Healthcare PLLC with the foundation to enter the world of business. Due to their availability, willingness and concern to share their expertise, we were able to achieve our goals in the community we serve."
For more information about Carpenter Primary Healthcare PLLC, call 901-348-6426 or visit the Carpenter Primary Healthcare website (opens new window). For more information on TSBDC, visit the TSBDC website (opens new window) or call Rory Thomas at 901-333-5085.