Krista Matheny is the Student Guest Speaker at the 2016 Commencement
For more information, contact:
Brenda Rayner
901-333-4247
bjrayner@southwest.tn.edu
Krista Matheny began her academic studies at Southwest Tennessee Community College and today she will be receiving an Associate of Science in Teaching degree with a 3.82 GPA. While at Southwest, she was accepted into the Phi Theta Kappa Honor Society, remained consistent on the Dean's List, and was nominated unanimously by the Education faculty to represent the student body as the 2016 Student Commencement Speaker. She has worked extremely hard to maintain a competitive GPA, and is now studying at the University of Memphis, working towards a Bachelor's Degree in Teaching All Learners in hopes to ultimately realize her dream of becoming a special education teacher.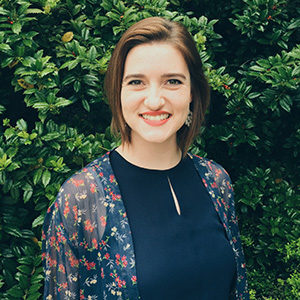 Krista Matheny
Krista says, "People often wonder and ask me, 'Why do you want to be a teacher?'" My desire and passion for teaching actually started on the continent of Africa. Although I am an American citizen, I grew up in Nairobi, Kenya – the proud daughter of Christian missionaries. My personal experiences in Nairobi, along with my volunteer experiences in Shelby County Schools, drive my passion to become a special education teacher. Ultimately, I want to ensure all children, especially the often-overlooked, marginalized, and forgotten; have a chance to a quality education."
When Krista is not hard at work maintaining her GPA, she is highly involved as an intern at The Life Church of Memphis. On a weekly basis, she is responsible for building creative lesson plans, scheduling teachers and assistants for four services, and supporting the Launch classroom, which serves an energetic group of first through fifth graders. Krista also assists The Life Church senior pastor's executive assistant; is part of the worship team for their middle and high school ministry; and coordinates hospitality for 500 people attending their Young Adult service. "I strive to complete my many responsibilities with excellence and skill, and continually seek out feedback and input from my advisors for self-improvement and to expand my leadership capacity. My ultimate goal is to begin schools for children with special needs in third-world countries and to be an advocate for their right to a quality and equal education," said Krista.