Southwest's 2016 Commencement: 1,275 Candidates Transitioned from Students to Alumni
For more information, contact:
Brenda Rayner
901-333-4247
bjrayner@southwest.tn.edu
Southwest Tennessee Community College awarded associate degrees and certificates to 1,275 candidates during its 2016 Commencement Ceremony on May 7 at the Landers Center in Desoto, MS.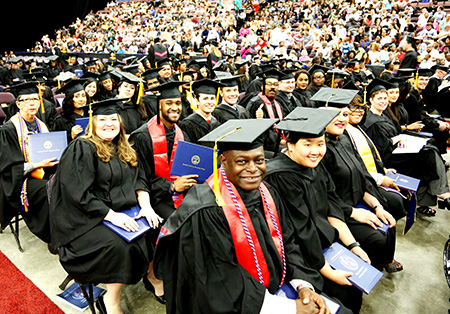 Graduates of Southwest's Class of 2016 with diplomas in hand; the smiles say it all.
Nationally recognized Chocolatier Chef Phillip Ashley Rix delivered an inspirational commencement speech to the graduates relating his unconventional journey from a corporate executive to a celebrated chef and entrepreneur. "The amazing thing is you sit at a point in time where the possibilities are endless. There're doors that are yet to be opened, simply waiting for you to knock," said Chef Phillip Ashley Rix.
Southwest President Dr. Tracy D. Hall commended the graduates for persisting in their struggles to reach this milestone stating, "It is through perseverance, dedication, and commitment that you have achieved your educational goals and are being honored today."
Dr. Hall gave special recognition to graduates Jason Woods and Carson Davis for the courage, talent, and determination exemplified during their educational pursuits. Woods, having total hearing loss due to meningitis at the age of three, completed his Associate of Applied Science Degree in Electronic Technology with a 2.65 GPA.
Davis graduated with an Associate of Science Degree in the Tennessee Transfer Pathway in Business Administration with a 4.0 GPA (summa cum laude) while also earning his high school diploma where he was homeschooled (Homelife Academy).
Southwest graduates who served our country in the armed forces were also honored.
Commencement Student Speaker Krista Matheny cheered her classmates saying, "The pain of all those late nights and early mornings was all worth it today. What caused all of us to be here, after all of the ups and downs of receiving an associate degree? Commitment."
Also during the ceremony, Vice President for Institutional Advancement Karen Nippert presented the Alumnus of the Year Award to Pamela L. Finnie. And Southwest Foundation Board Member John M. Farris presented the William W. Farris Faculty Service Award to Twyla J. Waters.