AT&T Donates $5,000 to Southwest Tennessee Community College
For more information, contact:
Robert Miller
901-333-4368
rgmiller1@southwest.tn.edu
AT&T today announced a $5,000 contribution to the Southwest Tennessee Community College to support non-traditional, underserved students preparing for high-skill jobs requiring technology-based skills in Tennessee community colleges. The donation will fund scholarships to help students begin a path toward completing their college degrees. The contribution was presented today at Southwest Tennessee Community College.
"This type of support from private business is important as we work to find ways to advance higher education in West Tennessee," said Dr. Tracy D. Hall, President, Southwest Tennessee Community College. "The programs this contribution will help fund gives our students the skills required to compete in today's technology based economy."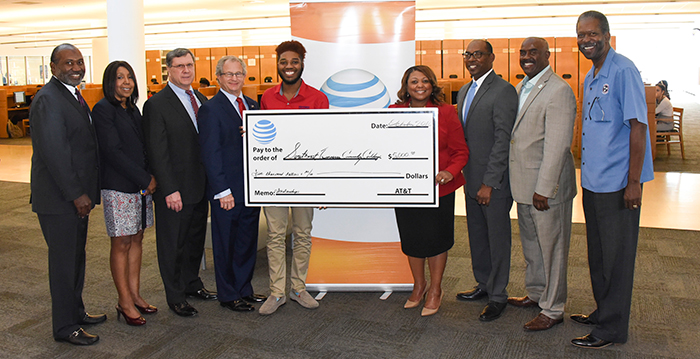 Photo caption. (L to R) Greg Duckett, TBR Regent; Carolyn Hardy, Chairman of the Board Greater Memphis Chamber; Ed. Lyons, Southwest Foundation Board Chair; Representative Mark White (R-TN); Michael Leverett, Southwest SGA President; Dr. Tracy Hall, Southwest Tennessee Community College President; Chuck Thomas, AT&T Regional Director; Sylvester Tate, President Tate Computer Systems; and Senator Reginald Tate (D-TN)
This donation is part of AT&T's $65,000 gift to the Tennessee Board of Regents. Each of the state's 13 community colleges will receive $5,000 to award scholarships to encourage students to participate in programs designed to help students succeed in the classroom and be better prepared to enter the workforce. The programs will target non-traditional and underserved students.
"Tennessee's community colleges serve as crucial pathways to prosperity for students who want to enter the job market as soon as possible," said Sen. Reginald Tate. "AT&T's commitment to good corporate citizenship in education will allow our future workforce to reach its full potential reaping benefits for all Tennesseans."
"Success in higher education is very important for Tennessee's long-term growth and potential," said Rep. Mark White. "AT&T's investment in programs like this exemplifies its commitment to furthering education in Tennessee."
In January 2010, the Tennessee legislature approved an aggressive set of steps to increase the completion rates of students within the institutions of higher education in the state.
"We are delighted to support Tennessee students who are acquiring the skills they need to enter the workforce," said Chuck Thomas, Regional Director of External and Legislative Affairs, AT&T Tennessee. "Accelerated certificate and degree programs are a great way to ensure our students are fully prepared to enter the workforce and that they can find good jobs right here in Tennessee when they graduate."
The Tennessee Board of Regents' Office of Academic Affairs developed a curriculum for accelerated pathways for college completion. The goal is to increase completion rates at the TBR community colleges. TBR created programs of study that encourage and allow students with work and family obligations to enroll on a full-time basis, devoting 20 to 30 hours a week, including online education. Students now have the option to complete required coursework for an Associate of Arts and Associate of Science degrees within three semesters.
Students in these new programs would benefit from scholarships that would enable them to participate fully in the four to five-hour morning, evening or weekend blocks of time required to complete an accelerated certificate or degree program. The proposed AT&T Completion Scholarship program ($5,000 to each of the 13 Tennessee Board of Regents' community colleges) would allow the institutions to award financial support to students enrolled in these programs and increase completion and entry into the workforce in Tennessee.
The 13 Tennessee Board of Regents' community colleges include:
Chattanooga State Community College – Chattanooga, TN
Cleveland State Community College – Cleveland, TN
Columbia State Community College – Columbia, TN
Dyersburg State Community College – Dyersburg, TN
Jackson State Community College – Jackson, TN
Motlow State Community College – Lynchburg, TN
Nashville State Community College – Nashville, TN
Northeast State Community College – Blountville, TN
Pellissippi State Community College – Knoxville, TN
Roane State Community College – Harriman, TN
Southwest Tennessee Community College – Memphis, TN
Volunteer State Community College – Gallatin, TN
Walters State Community College – Morristown, TN