Three Southwest Softball Players Named All-TCCAA
For more information, contact:
Keith Gentry
(901) 333-4114
mgentry@southwest.tn.edu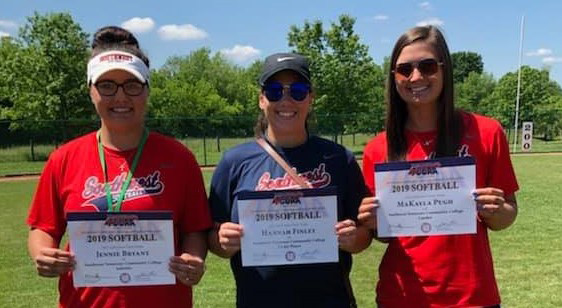 All-TCCAA Saluqis (L-R) Jennie Bryant, Hannah Finley
and MaKayla Pugh.
Sophomore Hannah Finley and freshmen Jennie Bryant and MaKayla Pugh were each selected first team All-TCCAA softball in a vote by the conference's coaches. It's the first time in the program's history that multiple Southwest softball players were named to the first team.
Finley, who played first base and pitched for the Lady Saluqis, made the team as a utility player while Bryant was picked as an infielder and Pugh as a catcher. Finley led the pitching staff with 9 wins and 83 strikeouts and was also one of the team's top hitters with a .375 batting average, 11 doubles, 7 home runs, 34 runs batted in and a team-high .478 on-base average.
Bryant played third base and shortstop this spring and led the team with a .423 batting average, 18 doubles, 3 triples, 12 home runs, .766 slugging average and a Southwest single season record 68 runs batted in, which also led the conference and ranked in the top 10 nationally. Pugh, a catcher/third baseman, was second on the team with a .378 batting average, 12 doubles, 53 runs batted in and a .669 slugging average and tied Bryant for the home run lead with 12 (three of which came in a single game against Jackson State, tying the Southwest single game record.) She was twice named TCCAA Player of the Week.