Twenty-Four Saluqi Student-Athletes Receive All-Academic Honors from TCCAA
For more information, contact: Keith Gentry, Sports Information Director, (901) 333-4114, mgentry@southwest.tne.edu.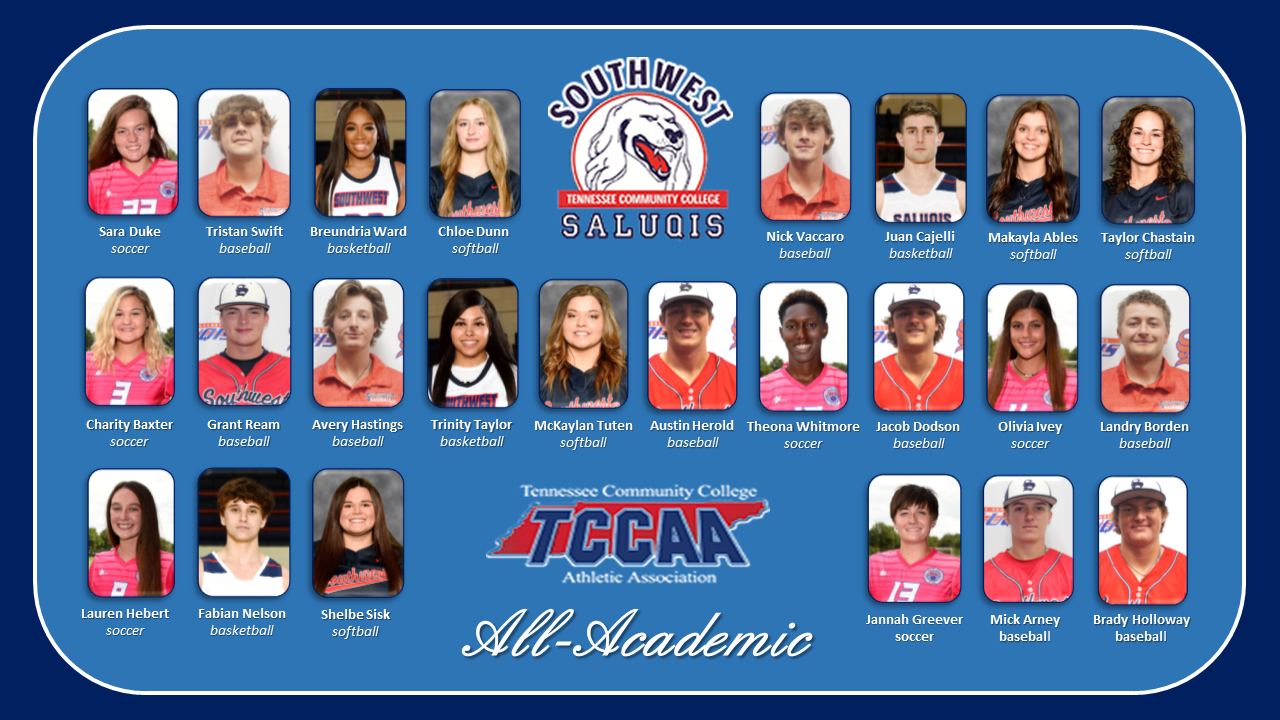 (Memphis, Tenn.) - Twenty-four Southwest Tennessee Community College student-athletes have been honored for their academic excellence, receiving All-Academic recognition from the Tennessee Community College Athletic Association (TCCAA).
Leading the five Southwest teams was baseball with nine TCCAA All-Academic honorees – sophomores Landry Borden, Stephen Dodson, Avery Hastings, Austin Herold, Grant Ream, Tristan Swift and Nick Vaccaco and freshmen Mick Arney and Brady Holloway. Women's soccer was next with six, followed by softball with five and men's and women's basketball with two each.
Soccer recipients were sophomores Charity Baxter, Sara Duke, Olivia Ivey and Brichanise Terrell and freshmen Jannah Greever and Lauren Hebert. Representing the softball team were sophomores Makayla Ables, Taylor Chastain, Chloe Dunn, and McKaylan Tuten and freshman Shelbe Sisk. Sophomores Trinity Taylor and Breundria Ward were the recipients from the women's basketball team while sophomore Juan Cajelli and freshman Fabian Nelson were the men's basketball team's honorees.
Sophomores who are repeat recipients of the TCCAA's All-Academic award are Ream, Swift, Vaccaro (baseball), Ables, Chastain, and Dunn (softball), Duke (soccer), Ward (women's basketball) and Cajelli (men's basketball.)