Automotive Service Technology AAS
Academic Map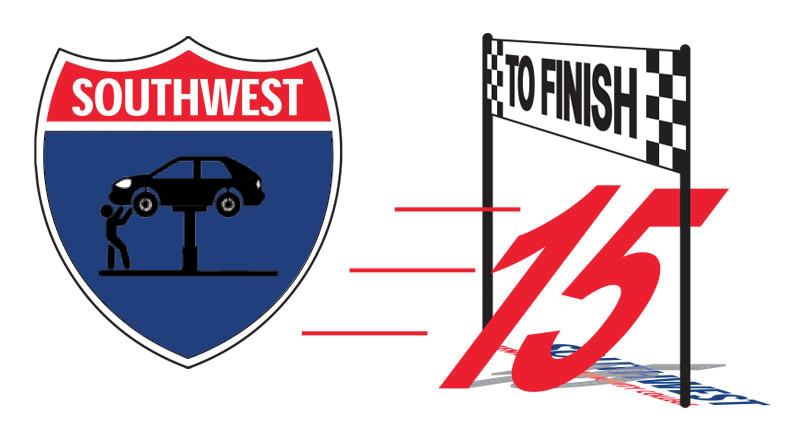 FIRST SEMESTER
Course
Notes
Credits
mc
AUTO 1010
Automotive Engines I & Lab

Successive Courses

Coreq: AUTO 1110
4

Milestone Course

AUTO 1110
Electrical & Electronic
System I

Successive Courses

Coreq: AUTO 1010
4
AUTO 1144
Brake Systems

Successive Courses

4
PICK ONE:
Natural Science or Math

Successive Courses

3
ENGL 1010
English Comp I
3
Semester Credits
18
SECOND SEMESTER
Course
Notes
Credits
mc
AUTO 1020
Automotive
Engines II & Lab

Successive Courses

Prereq: AUTO 1010
4
AUTO 1120
Electrical II / Lab

Successive Courses

Prereq: AUTO 1110
4
AUTO 1244
Heat & Air Conditioning System

Successive Courses

Prereq: AUTO 1110
4
COMM 2025
Fundamentals
of Communication
3
Semester Credits
15
THIRD SEMESTER
Course
Notes
Credits
mc
AUTO 2010
Automotive Engines III & Lab

Successive Courses

Prereq: AUTO 1020
4
AUTO 2144
Manual Transmissions & Drive Trains
4
AUTO 2164
Suspension & Steering System
4
Semester Credits
12
FOURTH SEMESTER
Course
Notes
Credits
mc
AUTO 2020
Automotive Engines IV & Lab

Successive Courses

Prereqs:
AUTO 1110
AUTO 2010


4
AUTO 2245
Automatic Transmissions & Lab

Successive Courses

Prereq: AUTO 1110
5
PICK ONE:
Social / Behavioral Sciences
3
PICK ONE:
Humanities / Fine Arts
3
Semester Credits
15
To stay on track, these courses must be taken in order.
General Advising Notes
Consult the academic map index for a list of previous maps.
2019-2022
This program is not designed to transfer.
General Advising Notes
It is highly recommended that students take Auto classes in this order. Some slight alterations can be made, as needed, by the Program Coordinator.
ENGL1010 and ENGL 0810
ACAD 1100 and READ 0810
MATH 1530 and MATH 0530

If you are struggling with any course, see the Instructor immediately. Do not wait until it's too late. Tutoring and support are always available.