Career Choice and Planning
When choosing a career, it is important to know yourself, learn about options, and develop a plan to reach your goals. Whether you are trying to decide on a major, unclear about career options, or want to make a career change, Career Services can help. We offer the following free tools to simplify the process of choosing your career path:
Take the Career Coach Assessment
All students are encouraged to take the Career Coach assessment to identify and/or confirm their career choice.
"Sign Up" to create an account and save your results
"Take the Assessment"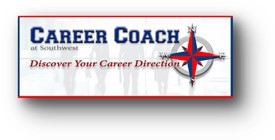 Once you complete the assessment, schedule an appointment at: https://swtn.navigate.eab.com (select "Career Services" as the care unit and follow prompts to choose your preferred day and time) to review your results.
Plan Your Career Using The 10 STEP CAREER GUIDE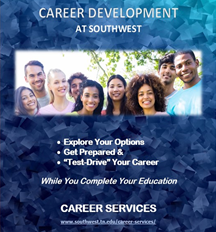 Once you have chosen a major, your advisor can help you map out an academic plan and choose courses that will prepare you for your chosen career.