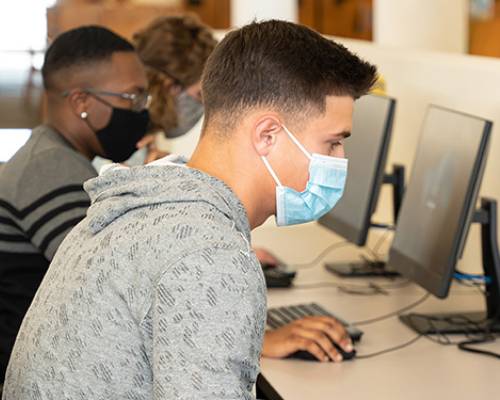 Prepare for your career in computer information technology
Computer Information Technology (CITC) at Southwest can prepare you for a career in business information technology (IT). CITC covers a wide range of topics including network communications, system administration and object-oriented systems development.
Earn an Associate of Applied Science (A.A.S.) degree as you learn skills to advance your career and enrich your personal life. Choose from Cyber Defense, Networking, Programming or Systems Administration Management.
Students will learn concepts and skills that apply to industry certifications such as:
CompTIA A+,
Linux+,
Network+,
Cisco Certified Entry Networking Technician (CCENT) and
Microsoft Certified Professional (MCP) in Server, Desktop, Applications and Developer.
Students interested in pursuing careers in Information Technology can get relevant experience through our IT Apprenticeship Program, a partnership with the Greater Memphis IT Council and the University of Memphis. Learn more about the apprenticeship program here.
A.A.S. Degree Academic Maps
System Administration Management A.A.S.
Program and Course Information
To find out more about courses offered at Southwest, you can use our Interactive Course Schedule to see when and where a class is being offered.
This program is part of the Technologies Department.
Contact Us
Dr. Melanie L. Jones, CITC Program Coordinator
901-333-4516
Bernice Neal, Secretary
901-333-4150
901-333-4496
Macon Cove Campus Fulton Building, Room 310