Electronic Refunds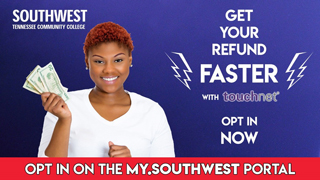 Sign up to receive your refund electronically through Touchnet at your My.Southwest portal! Your refund will be deposited into your personal bank account.
Standard refund policies apply. Students must have a mailing address, date of birth, email address and phone number on record in their My.Southwest student portal to receive a refund. To receive electronic refunds, students must have a personal bank account.
Electronic Refunds Frequently Asked Questions
Sign in to your My.Southwest portal and select:
"Registration/Online Services", then
"Student", then
"Student Account", then
"Make a Payment", and
"Login"
Next, select:
"Open Online Bill Pay"
"Electronic Refunds"
"Set Up Account" and enter all required information
Next, select "Continue".
Review and agree to terms and conditions, then select "Continue".
All done! "Your new ACH refund account has been saved" should appear.
You may apply online or in person. First choose the financial institution that is best for you. Many banks and credit unions offer free student accounts. The advantage of a student bank account is that it is specifically designed for the needs of students. The biggest benefit of student accounts is the interest-free overdraft that many of them come with.
You will be required to show proof of identification to open an account. Many banks will ask for Student ID number; social security number; driver's license number; government issued ID etc.
Bank accounts require a minimum deposit in order to open the account, often ranging from $25 to $250. Currently enrolled students may qualify to have the minimum deposit waived for a student bank account.
It will take from a few minutes up to a couple of days to receive your new account information.
Related Links