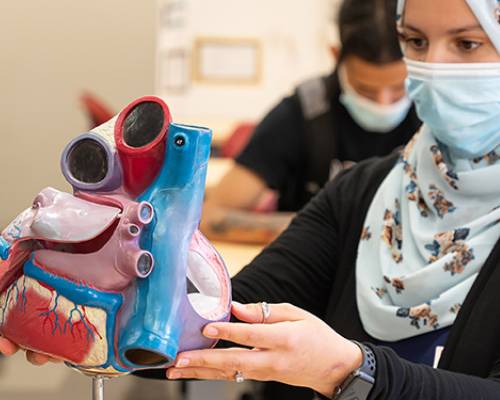 Students learn how to apply surface treatments and acquire technical craftsmanship.
Medical
Device Finishing is a 13 week
4 credit
course that focuses on basic technical skills for entry level finishers. In addition to earning a nationally recognized metalworking credential, students also qualify for potential employment with a number of growing medical device companies in the Memphis area. This program is part of the
Department of Labor Grant Programs
and the
Technologies Department
.
What you will learn in the program
Students who complete the program will earn national credentials in metalworking and will take the Career Readiness Certificate (CRC) during the course of the Finishing program. Students will learn the fundamentals of metalworking, including basic math, measurement tool techniques, blueprint reading, and hands-on skill training with top-of-the-line medical device equipment.
Qualifying students can participate tuition and fee-free. Eligible students must:
Meet Southwest's basic enrollment requirements,
Have no outstanding bills with the college,
Have a high school diploma or general equivalency degree (GED),
Have proper identification and meet other criteria.
The medical device finishing program is 13 weeks. Students meet twice a week in the evening or morning for four hours, and Saturday (8 hours) on demand.
The medical device industry is experiencing exponential growth and is forecasted to continue for the foreseeable future. Finishing offers an entry-level skillset that can lead into other areas of quality and machining. This gives a student significant upward mobility and more earning power for the future.
Students will acquire the following skills:
Professional finishing techniques
Blueprint reading
Measuring with calipers and micrometers
Exposure to great medical device companies
A distinct advantage in a growing segment of industry
Contact Belinda Looney to schedule an appointment today. Email Belinda Looney at blooney2@southwest.tn.edu or call 901-333-4162.
Contact Us
Macon Cove CampusFulton Building, Room 301
901-333-4150
Alan Otts, Coordinator
901-333-4983
Bernice Neal, Secretary