Health Department issues guidelines on Covid-19 boosters, masks in schools and employee vaccinations
Diana Fedinec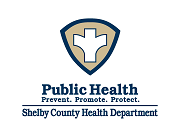 Shelby County Health Department has issued Health Order No. 26 on Sept. 27, 2021 to go into effect on Thursday, Sept. 20. Although Shelby County has seen a small decline in Covid-19 cases, the Health Department is encouraging the public to continue to wear a mask, stay home when sick and get vaccinated to prevent another surge from happening.
Per SCHD, Health Order No. 26 includes the following additional information and changes:
Data about a recent decline in cases and why we should continue with current measures so that we do not experience a plateau followed by another surge.
New information on developments that have occurred since Health Order 25 was released, including:


Guidance on booster doses that are now available to certain groups of people;
Update on a recent court order requiring the Department to enforce its indoor mask requirement;
Notice of a possible new emergency temporary standard from OSHA regarding vaccines and employers with 100 or more employees; and
Announcement from Pfizer that it is seeking approval for use of its COVID-19 vaccine for children 5 years and older.

Requirement that businesses and schools report to the Department within 24 hours any employee, student, worker, or contractor who has tested positive or who had contact with a person who tested positive.
Requirement that businesses and schools post "mask required" signs at entrances to provide notice to employees, students, and visitors that masks are required in public, indoor areas.
REGARDING BOOSTERS
A single dose of a Pfizer-BioNTech's COVID-19 vaccine ("Pfizer vaccine") booster shot is available to the following people who have received their first and second doses ("primary series") of the Pfizer vaccine at least 6 months ago:
People 65 years and older;
Residents in long-term care settings;
People aged 50–64 years with underlying medical conditions;
People aged 18–49 years with underlying medical conditions, based on their individual benefits and risks; and
People aged 18-64 years who are at increased risk for COVID-19 exposure and transmission because of their occupational or institutional setting, based on their individual benefits and risks.
Underlying Medical Conditions
www.cdc.gov/coronavirus/2019-ncov/need-extra-precautions/people-with-medical-conditions.html
Booster Shots
www.cdc.gov/media/releases/2021/p0924-booster-recommendations-.html
A pdf of the text of Health Order No. 26 is attached and it can also be viewed at http://shelbytnhealth.com/healthdirectives.
Southwest will continue to monitor the Coronavirus and plan accordingly. All Southwest students, employees and visitors who test positive for COVID-19 are encouraged to self-report online on the coronavirus section of the Southwest website. Please review the College's infectious disease policy and stay tuned for updates via email and on the College's coronavirus website at www.southwest.tn.edu/coronavirus.
To read more about Shelby County Health Department's most recent public health directives and loosening of COVID-19 restrictions, visit https://www.shelbytnhealth.com/. For information on vaccination eligibility and appointments, visit https://www.shelby.community/.