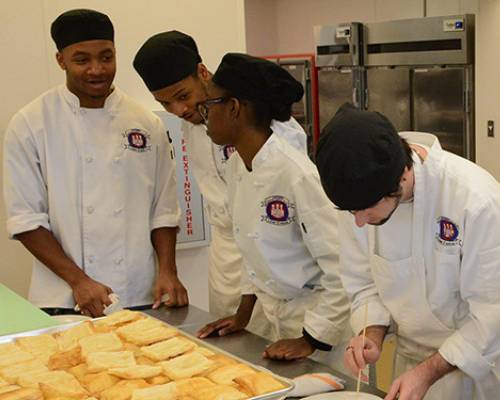 Be prepared to work in the growing leisure and hospitality industry
About 14 million people work in the leisure and hospitality industry in the United States. The industry is continually growing. Here at Southwest, we offer three paths that can lead to careers in this exciting field: Hotel Management, Restaurant Management and Culinary Arts. Using in-class instruction, interactive learning tools and laboratory opportunities, our programs are designed to prepare students for entry-level management positions in this challenging but rewarding industry.
Areas of Study
Degrees Programs Offered
The Associate of Applied Science (A.A.S.) Degree in Hospitality Management at Southwest is offered in three concentrations:
Restaurant Management
Have you dreamed of owning your own restaurant or managing one of your favorite restaurants? This degree provides students with a well-rounded education in the challenging field of restaurant management.
Hotel Management
Do you want to start a career in hotel management? This degree gives students an in-depth education to prepare them for an entry level management position at one of almost 250 hotel properties in the Memphis and Shelby County area.
Culinary Arts
Have you dreamed of working in a professional kitchen? This program prepares students for entry-level chef positions. The Culinary Institute offers cutting-edge kitchen, classroom and catering services in a modern, dedicated facility.
Academic Degree Maps
Course Information
To find out more about courses offered at Southwest, you can use our Interactive Course Schedule to see when and where a class is being offered. Hospitality Management is part of the Business and Legal Studies department. For more information regarding these programs contact the respective program coordinator or call 901-333-4130.
Contact Us
Thomas Midgley, Program Coordinator Hospitality
901-333-4132
901-333-4377
Macon Cove Campus Academic Building, Wing A, Room 110C
Chef Steven Leake, Program Coordinator Culinary Arts
901-333-4096
901-333-4377
Macon Cove Campus Fulton Building, Room 219
Hospitality Social Media