How to Register
New students must schedule an appointment for a New Student Orientation (NSO) session by following the "Orientation Prep List" found at the Student Orientation website.
New, continuing and transfer students must meet with a professional academic advisor prior to registration.
Students may perform the following functions through My.Southwest Student Self-Service:
Add/Drop classes
View class offerings
View Holds
View unofficial transcripts
View Academic Progress and Final grades
View personal information
View class schedule
View account balance
Registering Online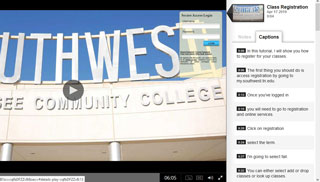 Meet with a professional academic advisor to select appropriate courses for desired major. While all students are urged to speak with an advisor, students marked as non-degree seeking are not required to see an advisor.
You must resolve any holds prior to registering. Please report to the appropriate department for hold resolution.
To Register Online:
Login to My.Southwest by entering your Student username and password
Click Login, then "Registration/On-Line Services" (the globe in the upper left corner)
Click "Registration ," then "Look up Classes"
Select the appropriate term [Spring: Jan.-May, Fall: Aug.- Dec., Summer: May-July]
Click "Advanced Search," select a subject and type a course number- You may filter by location, class start time, and class end time.
Choose your class and click "Register," ("Add to Worksheet" for Support classes) then Class Search to add more classes.
To view your schedule, click on Student Detail Schedule
Note: New students must see an advisor prior to registering for courses.
Registration Links
Contact Admissions and Records
Important Information