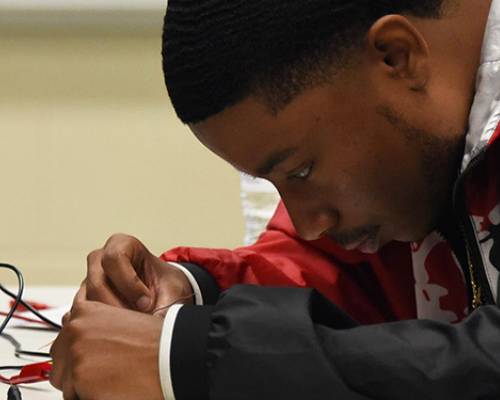 Pragmatic applications of computer hardware and software systems
The Computer Engineering Technology program at Southwest offers an Associate of Applied Science (A.A.S.) degree and a technical certificate.
Computer Engineering Technology A.A.S. Degree
This A.A.S. degree enables you to enter the job market as a computer engineering technician. The program focuses on the theory and application of computer hardware and software. Students in this program study the following:
electric circuits analysis
digital circuits design and analysis
electronic devices
high level programming
microprocessor/microcontroller programming and interfacing
digital communication
computer networks
This program prepares engineering technicians in the areas of design, fabrication and maintenance of digital electronic systems. Graduates may pursue careers in areas such as hardware and software testing, digital systems design, computer networking, and installing and maintaining computer systems.
Industrial Computer Fundamentals Certificate
This technical certificate program can help you gain quick-entry into a technical career within two semesters (only six courses). The program has a low total cost and a high income return. State of the art equipment and software used in the program are endorsed by major Mid-South industrial companies.
Academic Maps
Computer Engineering Technology A.A.S.
Industrial Computer Fundamentals Technical Certificate
Program and Course Information
To find out more about courses offered at Southwest, you can use our Interactive Course Schedule to see when and where a class is being offered.
This program is part of the Engineering Technologies Department.