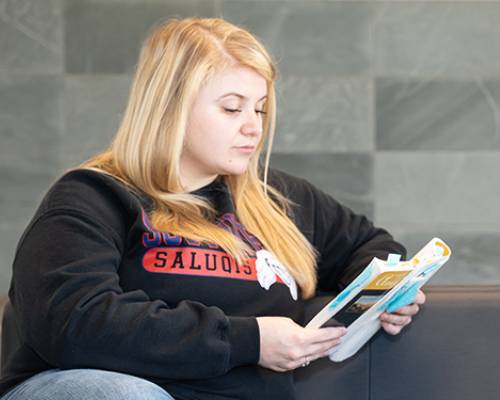 Our academic community values
intellectual inquiry and creative approaches to teaching and learning.
Honors designated courses are smaller, more interactive, innovative and student-centered, allowing students to pursue academic interests while developing personal and professional skills needed to become part of the next generation of leaders. By the end of the program, students not only graduate with an honors designation on their diploma, but with a strong professional network and a personal definition of success that will motivate them to succeed long after graduation.
The Honors Difference is Your Advantage
There are many benefits you will experience as an honors student at Southwest.
Learn "Outside the Box":

Working with faculty who like to experiment with new approaches means that the classroom is never dull. With an emphasis on experiential and student-driven methods, honors education challenges the idea that learning should confined to the classroom or a lecture format. In honors courses, students will find a collaborative and innovative environment that will spur their academic and personal growth. Smaller class size gives students the support they need to take those intellectual risks.
Be part of a campus community:

In addition to courses reserved specifically for honors students, honors spaces on campus and year-round honors events help create a close-knit community that results in life-long friendships. Located in MAB 139 on the Macon campus, the HIPI lounge is a place where students can study, use computers, or relax and enjoy a free snack. At the Union campus, an exclusive honors lounge can be found in Building B, Room 210.
Participate in local, regional, and national conferences:

Honors students have opportunities to present their research on and off campus to hone their presentation skills, network with other students and faculty in their field of study, and build their résumés.
Travel Abroad: Honors students have the option to study abroad as part of their capstone course,

Honors Inquiry.

You can go anywhere from here!
Earn an honors designation on your diploma: To graduate with an honors designation on the diploma, honors students must take at least 15 honors credits, including Honors Inquiry, and graduate with at least a 3.25 cumulative GPA.
Contact Us
901-333-4615
901-333-4055
High Impact Practices and
Innovation (HIPI) Office
Macon Cove Campus Academic Building B, Room 139
Susanna Jackson, Coordinator
Macon Cove Campus Whitehead Building, Room 25
901-333-4274
Dr. Julie Lester, Coordinator
Union Avenue Campus UF310D
901-333-5218
Honors Spotlight: Where Are They Now?
Related Links