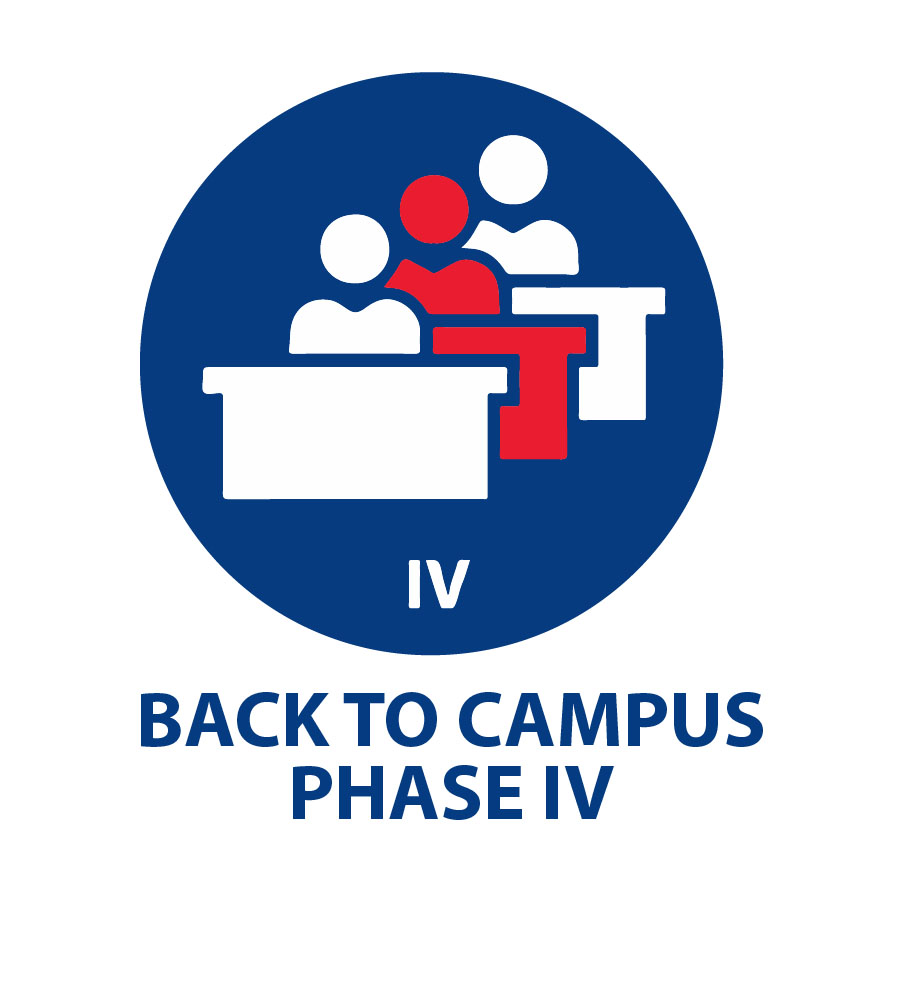 This back to campus plan was developed using the best-known practices and guidelines set forth by the White House Opening Up America Again Plan and the Centers for Disease Control and Prevention (CDC). While this plan is based on the most current information available, the phases and other guidelines are subject to change to address emerging conditions related to the COVID-19 pandemic.
Phase IV began with the return of all employees to on-campus work Aug. 2, 2021. All locations open with full on-campus operations. Students continue to receive assistance online, but also on campus by appointment Monday through Thursday, 8 a.m. to 6 p.m. and Fridays, 8 a.m. to 4 p.m. Campus bookstores are open. On-campus gatherings limited to 30 persons and facilities rental to persons or organizations outside of Southwest remains prohibited until pandemic conditions improve. Health screenings are no longer required for campus access. Face coverings are required and social distancing is practiced until pandemic conditions improve and in accordance with Centers for Disease Control and Prevention recommendations.
BACK TO CAMPUS FEATURED VIDEOS
---
THE PLAN IS DIVIDED INTO THE FOLLOWING SECTIONS:
Phase I – Summer 2020
Phase II – Fall 2020 & Spring 2021
Phase III – Summer 2021
Phase IV – Fall 2021
General Guidelines and Precautions
Campus Access
Faculty and Students
Employees
Third Party Vendors and Visitors
Plan Updates
ACKNOWLEDGEMENTS
This plan was developed with guidance from several sources, including Shelby County Health Department Director Alisa Haushalter, DNP, RN, PHNA-BC, The College System of Tennessee, The White House Opening Up America Again plan, The Centers for Disease Control, The Shelby County Health Department and Baker-Donelson law firm.
Special thanks to the following members of the Southwest Tennessee Community College COVID-19 Task Force for their diligent work:
SOUTHWEST COVID-19 TASK FORCE
Dr. Tracy D. Hall, President
Dr. Kendricks Hooker, Vice President for Academic Affairs
Cory Major, Interim Vice President for Student Affairs
Jeannette Smith, Chief Financial Officer
Michael Boyd, Associate Vice President for Administrative Services
Iliana Ricelli, Associate Vice President for Human Resources
Cynthia Abadie, Special Assistant to the Vice President for Academic Affairs
Sherman Greer, Associate Vice President for Government Relations
Dr. Shelia Bouie, Chair for Health and Natural Sciences / Nursing, Medical Advisor
Merry Mattix, Department Head - Emergency Medical Technology
SOUTHWEST BACK TO CAMPUS OPERATIONAL LEVELS
CONTACT
General Information Phone:
901-333-5000
Public Safety Email:
policeservices@southwest.tn.edu
Macon Cove Campus Phone:
901-333-4242
Union Avenue Campus Phone:
901-333-5555