STUDENT NEWS: Project M.O.S.T. takes students on virtual trip to Africa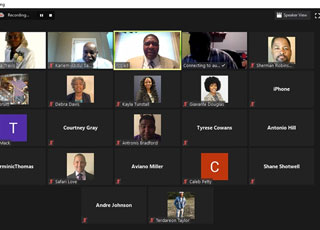 Men of Southwest Tennessee members travelled to three African countries and two American cities this summer during Project M.O.S.T.'s first virtual Introduction to College Excellence series of seminars.
This year's theme, "Changes, Challenges, and Opportunities of the 4th Industrial Revolution," sparked the participation of nearly 120 students and guests who gathered virtually on Microsoft Teams and Facebook to hear speakers lecture on the role of new technologies – the fourth industrial revolution – and the resulting opportunities and challenges for international trade and communication.
Southwest President Tracy D. Hall and Vice President of Academic Affairs Dr. Kendricks Hooker welcomed M.O.S.T. members and special guests to the two-week-long series packed with activities and training.
"We are honored to have speakers from the African continent share their knowledge and expertise from a unique personal, professional and cultural perspective," President Hall said during her welcome remarks. She added that the more we can connect to each other and learn from one another on a global scale, the greater the opportunity we have to build a better tomorrow for everyone, everywhere.
Project M.O.S.T. Director Kariem-Abdul Salaam said this year's program was designed to create awareness among the students about entrepreneurship, STEM careers and international business opportunities brought on by the latest industrial revolution currently taking place, especially among Africans in the diaspora. He said the event coincided with the celebration of the Year of Return, Ghana 2019, a major landmark spiritual and birth-right journey inviting the African-Americans and other members of the African diaspora across the world, to journey to Africa to mark 400 years of the arrival of the first enslaved Africans in Jamestown, Virginia.
Salaam credits Fred Thompson, CEO of TQM Consultants, and a former Southwest employee who currently is based in Johannesburg, South Africa, for the success of the ICE event. "Fred was key in coordinating the participation of our international speakers and proposing the different learning management systems, business tools and digital platforms students could benefit from knowing," Salaam said. "Our M.O.S.T. staff is very appreciative of his time and efforts."
The event featured the following six international speakers:
Cecil Senna Nutakor, from Ghana, West Africa, introduced participants to eCampus, a digital platform he created that helps improve student success. The platform can predict, target, and strengthen a student's weak areas in specific subjects.
Vanita Daniels, from Johannesburg, South Africa, is Director of Administration at Rise Up Against Gender-Based Violence. Daniels explained how the prevention programs of Rise Up specifically target the drivers of GBV and its impact on male and female victims and society.
Dr. Murisiku Raifu, a neurosurgeon from Ghana who attended Fisk and currently hails from Encino, California, discussed an app he created that allows patients to control their health records and experiences.
Dr. Litha Musyimi-Oganah, originally from Kenya, is South Africa's African Union Representative. Dr. Musyimi-Oganah elaborated on the efforts the African Union is making to bridge the African diaspora. She also currently serves as the gender advisor of the New Partnership for Africa's Development in Johannesburg.
Mirriam Omala Gauvin, an Advisor at the African Union to the United Nations from New York City, provided information on the work of the African Union throughout the African continent in the areas of diplomacy, business and government.
Dr. Arikana Chihombori-Quao, former Ghanaian Ambassador to the U.S., now residing in Murfreesboro, Tennessee, joined the seminar via a recorded video. An outspoken advocate for human rights, Chihombori-Quao addressed the George Floyd crisis and made a passionate plea for presidents of all African countries to provide regions where Africa's children in the diaspora can find refuge from injustice.
The following Southwest faculty and staff also presented:
Dr. Robin Cole, Dean of Business and Career Studies, "An Awareness of STEM as a Career Choice"
Dr. Akwasi Kusi-Appiah, Assistant Professor of Mathematics, "Overcoming the Fear of Math"
Jessica Miller, International Studies Coordinator, "International Experiences for a Global Perspective" and "International Studies at Southwest"
Andrew Robinson, Southwest alumnus and former M.O.S.T. Student, "Sharing Experiences of Success"
Rory Thomas, Executive Director the Tennessee Small Business Center, "Power of the Entrepreneurial Mindset"
For more information about Project M.O.S.T., contact Kariem-Abdul Salaam at ksalaam@southwest.tn.edu.