Southwest convenes first virtual legislative town hall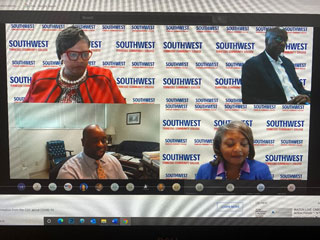 Southwest Tennessee Community College President Dr. Tracy D. Hall and senior leadership convened the College's first virtual Town Hall-Legislative Edition Aug. 25, 2020, to update state legislators on Southwest's pandemic response and its Back to Campus Plan for fall semester.
Senior leadership provided an overview of student supported services, academic affairs, workforce development, safety measures and the fiscal impact of COVID-19 on the institution's enrollment and revenue. Following is a recap of their presentations:
President Hall shared with legislators how Southwest responded to COVID-19 beginning in February up to the present, which included immediately cancelling study abroad trips and administrative travel. She also provided an overview of a reimagined Southwest today that is comprised of online classes, hybrid on-campus and online learning, campus safety protocols, online student services and telecommuting employees. She thanked the legislators for their support and ensured everyone that the college is doing everything it can to continue to provide a quality education for students. "We have been very creative in reimagining how we teach," Dr. Hall said. "We wanted to make sure we never closed and that was something we wanted to make sure we shared with the community."
Vice President of Student Affairs Jacqueline Faulkner discussed the early challenges of addressing the high touch point and technology needs of the College's student population and the innovative student-centered solutions that were implemented to transition students to full online support services. These included issuing cell phones to all Student Affairs employees, using dynamic forms for direct, remote uploading of important documents, Telehealth for students in need of mental health counseling and virtual academic counseling to keep students moving forward. Faulkner also informed the delegates of Tennessee Board of Regents' multiple measures pilot that allows high school graduates with a 2.8 GPA or better to be placed in college-level classes. Overall, the department has essentially transitioned all its brick and mortar wrap-around support services into a virtual environment.
Vice President of Academic Affairs Dr. Kendricks Hooker provided an overview of how the faculty and students adapted to a new online teaching and learning environment. He presented the College's new teaching modalities and academic calendar designed to give students greater scheduling flexibility. With the increased capacity of online courses, Hooker said Southwest addressed the digital divide of its students and purchased 3,500 Toshiba laptops for a laptop loan program and extended Wi-Fi services at the Macon Cove and Union Avenue campuses and Whitehaven and Maxine A. Smith centers. The library continues to provide services remotely and faculty now host virtual office hours.
Associate Vice President of Workforce and Economic Development and Continuing Education Anita Brackin discussed the division's successful launch in May of 10 free online business and professional development courses that netted nearly 18,000 registrants. Brackin said it was a great way to engage the community and help introduce individuals to online learning and networking. Brackin also discussed the new goal of SouthwestWorks to transition individuals to emerging careers in the new economy by providing a pipeline for citizens to return to Southwest to pursue a degree or certificate. She highlighted several foundational certificates in hospitality, healthcare, IT and manufacturing with more tracts to come in the near future. Brackin also reported that SouthwestWorks has provided online training for Shelby County Schools teachers, along with training to prepare medical device finishing and machine operator professionals for the National Career Readiness Certificate Test and tech skills assessment. The division is working with Greater Memphis Medical Device companies to secure grants for customized programs and recently received a $1M U.S. Department of Labor apprenticeship grant to upskill 800 Mid-Southerners for IT jobs.
Vice President of Finance and Administration Mike Neal presented an overview of the Back to Campus Plan safety measures and protocols launched July 8 during summer sessions that included the reopening of the Macon Cove and Union Avenue campuses. Phase II of the plan was implemented Aug. 24 with the start of fall semester and included the reopening of two more locations—the Whitehaven and Maxine A. Smith centers. Neal said the plan consisted of an online health assessment, temperature screenings, and controlled access to the campuses and a limited number of buildings that were open for classes and administrative use.
Neal also discussed the fiscal impact of COVID-19 on the College. Currently, there is a nearly 25% reduction in fall enrollment, a trend that is happening with many colleges across the nation due to the socio-economic and emotional issues students are facing that are caused by the pandemic. Neal said the reduction translates into an $8-10M budget shortfall and that the administration is exploring cost reduction strategies to minimize impact.
The Town Hall concluded with a Q&A that primarily focused on how the College is reaching out to students in need. To watch the Town Hall on-demand, click on the graphic below or this link: https://www.youtube.com/watch?v=6jT344Y195Y
---
Scoop - September/October 2020