President's Leadership Retreat focuses on reimagining student success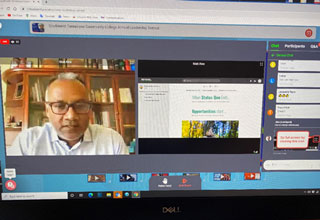 Southwest faculty and administration participated in an exciting and transformational leadership retreat to reimagine Southwest Aug. 7. President Tracy D. Hall invited the group to her second annual President's Leadership Retreat to engage in a virtual conversation on how the College can prepare students for work in the "new normal" of COVID-19.
Dr. Hall initiated the conversation with an overview of what the College has accomplished since last year's retreat at the National Civil Rights Museum. She placed a call to action for leaders of the college to address the disparities, injustices and barriers that students face. "2020 (and the pandemic) has shined a light on some challenges that we need to address," she said. "It is time to not just shine a light on health care and criminal justice. We need to look at what we are doing in higher ed and how we have been complicit in keeping students from achieving their goals and being more upwardly social and economically mobile."
Hall also encouraged attendees to reimagine Southwest by becoming more efficient, effective, innovative, and entrepreneurial in their work and to re-examine what they need to do as leaders and as an institution.
Keynote speaker and founder of Beyond Academics, Mathew Alex, challenged participants to envision a new, modernized and connected campus enterprise that embraces today's digital technologies. "When status quo ends, opportunity starts," said Alex, who was a first-generation college student and criminal justice major. He also asserted that policies need to be challenged to be able to reimagine the campus and transform the way everyone interacts with students and faculty.
Joe Abraham, co-founder of Beyond Academics and founder of BOSI, teamed up with his colleague Alex to present the findings of the BOSI DNA assessment that participants took prior to the retreat. Abraham also asserted the importance of knowing how people are wired differently so that their strengths and weaknesses will complement each other, something he says is vital to the success of leaders in any organization.
To watch moments from the retreat available for public viewing, click on the graphic below or this link: https://www.youtube.com/watch?v=jnrtCvJHuNA.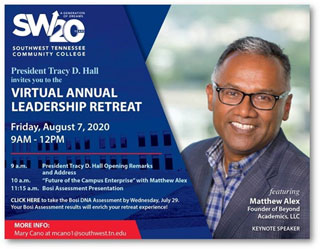 ---
Scoop - September/October 2020