SALUQI CORNER: Student-athletes score big at TCCAA achievement awards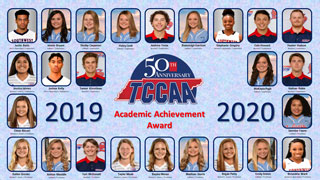 Twenty-five Southwest student-athletes representing each of the College's five athletic teams were honored for their scholastic accomplishments as recipients of the Tennessee Community College Athletic Association's Academic Achievement Award for the 2019-2020 academic year.
Leading the way was the Lady Saluqi softball team with nine recipient winners: Garrison and MaKayla Pugh and freshmen Jasmine Fayne, Ashton Mauldin, Madison Norris and Emily Staten.
The women's soccer team had six recipients: sophomore Jessica Jaimes and freshmen Chloe Biscari, Kallen Gresko, Taylor Moak, Baylee Moran and Regan Patty. Tying them for the second most awarded honorees was the baseball team with six recipients: sophomores Andrew Feola, Cole Howard, Hunter Hudson, Tanner Kimminau and Nathan Ruble and freshman Curt McDonald.
The women's and men's basketball teams had two winners each: sophomore Stephanie Gregory and freshman Breundria Ward and sophomores Justin Batts and Joshua Kelly, respectively.
To qualify for the award, sophomores must achieve a 3.0 overall grade point average with at least 48 hours of college-level coursework. Freshman needed a 3.2 overall grade point average with at least 24 credit hours of college level coursework.
Congratulations to all the TCCAA Saluqis for their outstanding work in the classroom!