STAFF KUDOS: Chief L. Angela Webb appointed to international committee for campus public safety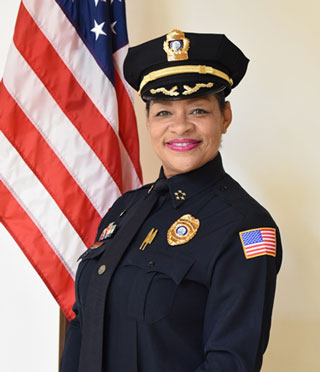 Congratulations to Police Services/Public Safety Director L. Angela Webb on her appointment to the International Association of Campus Law Enforcement Administrators Education and Learning Committee. As a member of this prestigious international body, Webb will share her campus safety expertise to help instruct more than 4,000 IACLEA members in cutting edge technology and techniques and emerging safety trends. She also will help develop, monitor and deliver topical training workshops and plan the education program for IACLEA's annual conference.
"Chief Webb has made extraordinary contributions to the College in promoting a safe, secure and healthy environment for our students and employees," President Tracy D. Hall said. "We proudly congratulate her on this distinguished appointment. IACLEA members will benefit greatly from her innovative practices and training programs."
A retired major from the Memphis Police Department, Webb joined Southwest in 2015 as director and just four years later found herself on a national stage as the winner of the American Association of Community Colleges' 2019 College Safety Planning and Leadership Award. She is delighted at this latest endorsement of her knowledge, experience and leadership skills and looks forward to serving at the international level. "Becoming a member of IACLEA is one of the best decisions I've ever made," Webb said. "Receiving my appointment to the Education and Learning Committee indeed filled my heart with joy. I'm elated IACLEA has allowed me to be a creative resource to its members and I look forward to engaging them through innovative, thought-provoking training sessions."
IACLEA is the global leader for campus public safety and go-to resource for public safety personnel around the world. As a member on the committee, Webb will represent Southwest among the association's more than 4,200 law enforcement, public safety and security professionals. IACLEA's collegiate membership includes more than 1,000 institutions of higher education in 11 countries.
Webb's one-year term expires July 2021 following IACLEA's annual international conference.
Congratulations, Chief Webb!