M.O.S.T. counselor Sherman Robinson wins inaugural Employee of the Month Award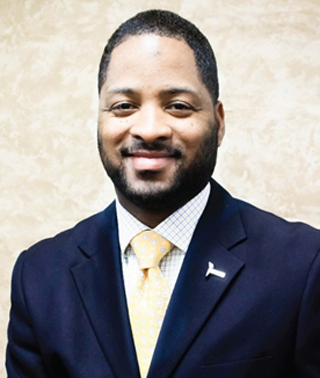 The lifeblood of any organization is its people. At no place is that more true than at Southwest where the student experience relies on the commitment of its staff to transform the lives of students and increase the educational level of the community. To recognize this commitment, the Professional Administrative Staff Organization (PASO) and Support Staff Organization (SSO) launched an Employee of the Month Award last month. The nominations poured in.
Sherman Robinson, Men of Southwest Tennessee (MOST) student counselor, is the award's first recipient. Robinson was nominated by fellow employees for going above and beyond his job scope, providing outstanding customer service, and for distinct achievements that positively impacted his department.
One of the nominating entries had this to say about Robinson: "Mr. Robinson has done an outstanding job of keeping our operation running smoothly during times when we are severely under-staffed. Along with attending to his own fairly large caseload, he's absorbed a major portion of the vacant counselor's caseload, as well as a considerable amount of the duties of the secretary and receptionist. Sherman cheerfully goes about the day providing services as needed to keep our students engaged, as well as preventing anything from falling through the cracks."
As part of the award's benefits, Robinson will receive free breakfast or lunch for a week from The Taste at Southwest and a reserved parking space of his choice at the Union Avenue Campus for the month of February.
Do you know a colleague who is an outstanding employee?
Nominating an employee is easy. All full and part-time staff and administrative employees who have been employed at least six months are eligible for Employee of the Month. The achievements for which the employee is being recognized must have been accomplished within the last 60 days. Visit the Employee of the Month page to learn more about eligibility requirements and to complete a nomination form.