Southwest and Greater Memphis Chamber launch new global logistics continuing education course
If you've ever had a package delivered to your doorstep, chances are you never thought twice about how it arrived. Americans love the convenience of shopping on-line – in fact, today, ecommerce has become a billion-dollar industry fueling the profits of both small businesses and global corporations.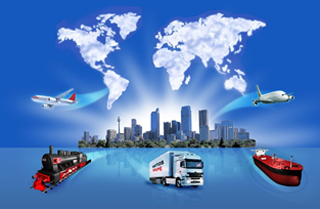 It takes skilled workers to move a package from point-of-sale to delivery. To meet this need, Southwest and the Greater Memphis Chamber have partnered to offer a Global Business Development Import/Export Processes and Documentation continuing education course beginning Feb. 18. The course is aimed at preparing students and professionals for advanced careers in logistics at companies specializing in delivering goods by land, sea, air and rail.
Global Logistics and Processes Course Facilitator Larry Forman helped design the 12-week course with Chamber Vice President of International Business Development Jinliang Cai. Forman has more than 30 years of experience in complete supply chain solutions having worked at Burlington Northern Air Freight, Danzas Express, SEKO Logistics, Expeditors, Superior Brokerage Services and Werner Enterprises at Chicago's O'Hare Airport. He and Cai met with representatives from FedEx, Mallory Alexander International Logistics, and Drexel Chemical, to gain their industry insight on all aspects of global supply chain management, from customs rules and regulations, to dangerous goods handling and documentation.
Forman sees himself training people to work behind the scenes at the Amazons of the world. "E-commerce is the way to go and the further it goes, the more skilled workers trained in global logistics will be in demand." He says his course gives students a knowledge of the industry that is not taught at any college or university. "Most employers recruit employees from other companies who have this foundational knowledge that they learned on the job," said Forman. "There is a certain skill set that can get you moving beyond sorting to a management position, and that's what I'll be teaching. It's heartbreaking to see warehouse workers doing the same thing after 30 years – I want them to advance in their careers."
According to the U.S. Department of Commerce, transportation, logistics, distribution and e-commerce are growing industry sectors in metro Memphis — 1 in 5 jobs are related to transportation and logistics and 15,000 jobs were added between 1998 and 2018.
Memphis is considered one of the nation's busiest distribution hubs – over $25 billion worth of goods came in and out of the Memphis region in 2017. "Demographically, Memphis covers all four aspects of my industry – air, ocean, rail and trucking – no other individual place in United States does this," Foreman said. "It's the perfect training ground for positions in global logistics."
To learn more about the course and apply, click here or call (901) 333-4036 more information.