Southwest student joins cohort class of IT Apprenticeship program course
By Roshunda Buchanan and Diana Fedinec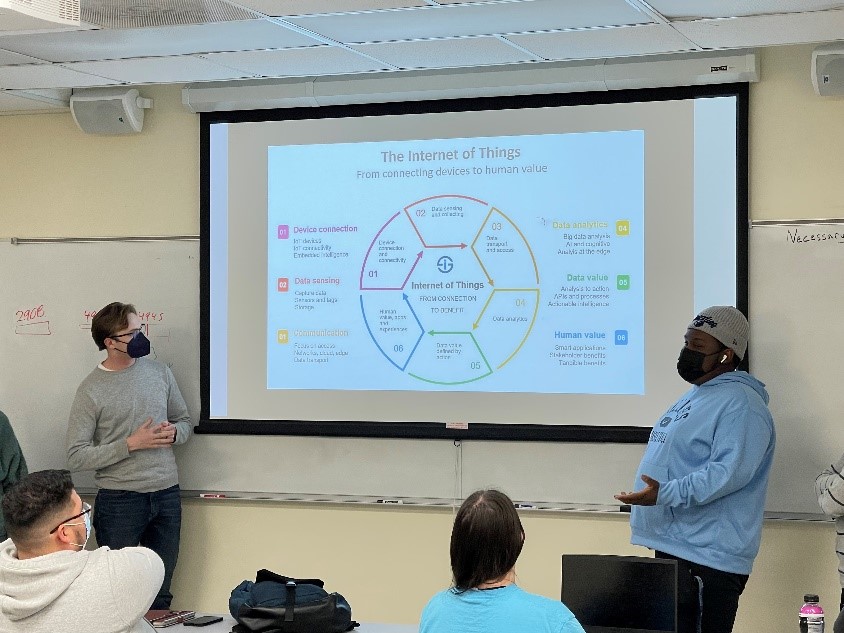 Southwest student Marcus Jordan explains his team's
project during a UofM Transformative Technologies in
Engineering course.
Kudos to Southwest Computer Information Technology concentration (CITC) Programming major Marcus Jordan on his selection to participate in the UofM's Transformative Technologies in Engineering course that began in Fall 2021.
UofM created the course as part of the Greater Memphis Apprenticeship Pathway Program (GMAP) spearheaded by Southwest Tennessee Community College. The GMAP program is funded by the US Department of Labor Closing the Skills Gap Apprenticeship 4-year grant to help 800 apprentices earn attain industry-recognized certifications and credentials in four IT concentrations: Cybersecurity, Networking, Programming, and System Management and Administration.
Jordan, who graduates in December 2021, says the course has helped him develop foundational skills that are critical to success in his field. "This was a tremendous learning experience for me," Jordan said. His team project with fellow UofM classmates focused on integrating the internet with a supply chain company known as Consolidated Chassis Management. "Everyone in the group was very tech savvy, well organized and super friendly," Jordan said. "It felt good to be able to share my knowledge in programming and networking from the CITC courses I took at Southwest. I would definitely recommend students in the Capstone course to take advantage of this opportunity."
Jordan and 17 UofM students comprise the program's second cohort. During this fall semester, students will complete both individual and team projects that integrate technical innovations. They also will have the opportunity to attend three industry field trips and learn from representatives of 15 different companies who will serve as guest lecturers, project mentors and field trip guides.
Drs. Stephanie S. Ivey and Aaron Robinson have been working with the students on multidisciplinary design teams to develop innovative projects that address several industry challenges. "We are so excited about our partnership with Southwest and the students' interest in the course," Ivey said. "The industry engagement has been phenomenal and it is making a tremendous impact on the students and their career pathway decisions."
The collaborative design of the apprenticeship program gives students the opportunity to learn from peers from diverse backgrounds and develop solutions from various perspectives. "We are thrilled to have a student from Southwest involved in the course this semester," Robinson said. "Working together like this provides a rich experience for all of our students as they learn from one another."
For more information about the Transformative Technologies in Engineering course at UofM, contact Dr. Stephanie Ivey at ssalyers@memphis.edu or Dr. Aaron Robinson at alrobins@memphis.edu.
For questions about the IT Apprenticeship Program, contact coordinator Roshunda Buchanan at rrbuchanan@southwest.tn.edu.