Southwest hosts Chamber's Chairman's Circle
By Daphne Thomas and Diana Fedinec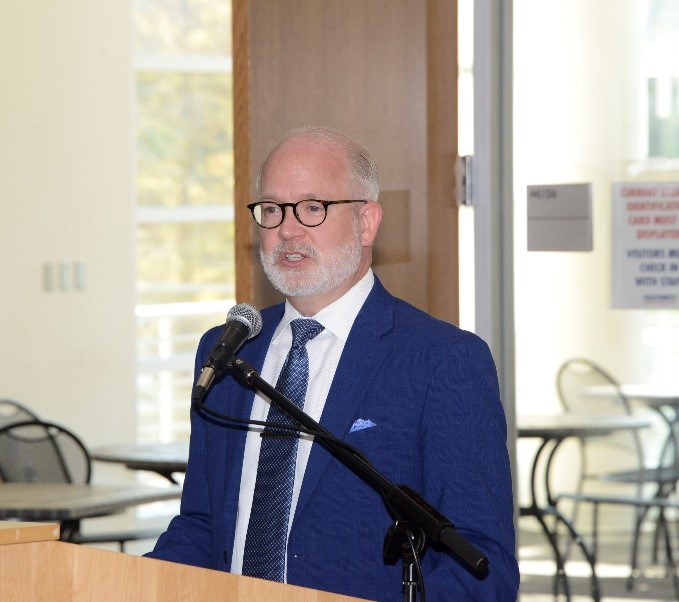 Greater Memphis Chamber Chief Economic
Development Officer Ted Townsend opens the
Chairman's Circle meeting Oct. 26, 2021, at
Southwest's Bert Bornblum Library.
Presidents, CEOs and business owners toured the newly renovated Fulton Building on the Macon Cove Campus Oct. 26, 2021, where they saw first-hand Southwest's new state-of-the-art technology labs. The tour was part of the Memphis Regional Chamber's Chairman's Circle quarterly meeting.
The Chamber describes the Chairman's Circle as "a group of visionary, civic-minded business leaders committed to moving Memphis forward." The executives were rapt with attention as Southwest President Tracy D. Hall, Vice President for Academic Affairs Kendricks Hooker, Dean of Business and Technologies Robin Cole and other college leaders provided an overview of how Southwest fuels the workforce pipeline in the Mid-South.
"The workforce and economic development mission of community colleges was firmly established when the first community college opened in Joliet, IL, in 1901," Dr. Hall said. "We exist to educate, train, upskill and reskill the local workforce," Hall added.
President Hall also debuted the College's "We Go to Work" video and shared how a majority of Southwest students must overcome significant economic and social challenges to attend college. "Many are the first in their family to go to college and many more lack the basic necessities some of us may take for granted, like housing and reliable transportation. But they arrive and when they put in the work, we help them go to work," Hall said. "More than 90 percent of our graduates work right here in Shelby County."
Hooker and Cole presented an overview of the College's one and two-year career and technical offerings. They shared information about how outreach efforts like the College's faculty externships and advisory committees help Southwest provide cutting-edge training that prepares students for success in cybersecurity, mechatronics and other rewarding careers.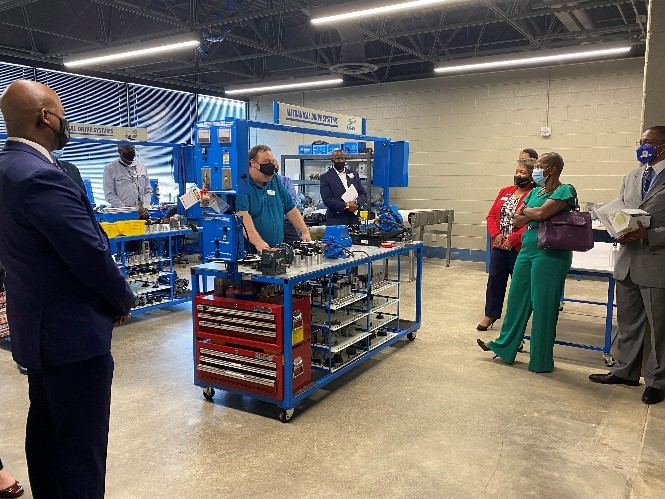 Technologies instructor Chris Rogers explains mechanical drive systems to the Chairman's Circle tour group in Southwest's Fulton Building.
The visitors then toured the Fulton building where they saw first-hand how Southwest trains future technicians in automotive service technology, advanced manufacturing and mechanical and electrical engineering. Instructors Chris Rogers and Steven Taylor demonstrated the lab's impressive 3-D printer and the new Yaskawa robots used in the College's mechatronics classes.
The tour ended in the Culinary Arts Institute where Culinary Arts Chair Steven Leake and his talented students whipped up a savory meal that included fresh fruit and cheeses, sautéed vegetables, scrumptious shrimp and creamy alfredo pasta. The meal received rave reviews as the group marveled at the Institute's sprawling kitchen and demonstration classroom and learned how Southwest students contribute to local tourism and the South's culinary tradition at area restaurants and hotels.
Associate Vice President for Government Relations Sherman Greer organized the visit. He says the group was extremely impressed with everything they heard and saw. "The Chamber already has asked the College to host the Circle again," Greer said. "We look forward to additional visits as it is important for area business leaders to see first-hand how Southwest fuels the workforce and what we can do to help them recruit future employees and upskill and reskill their current employees. It was a great day."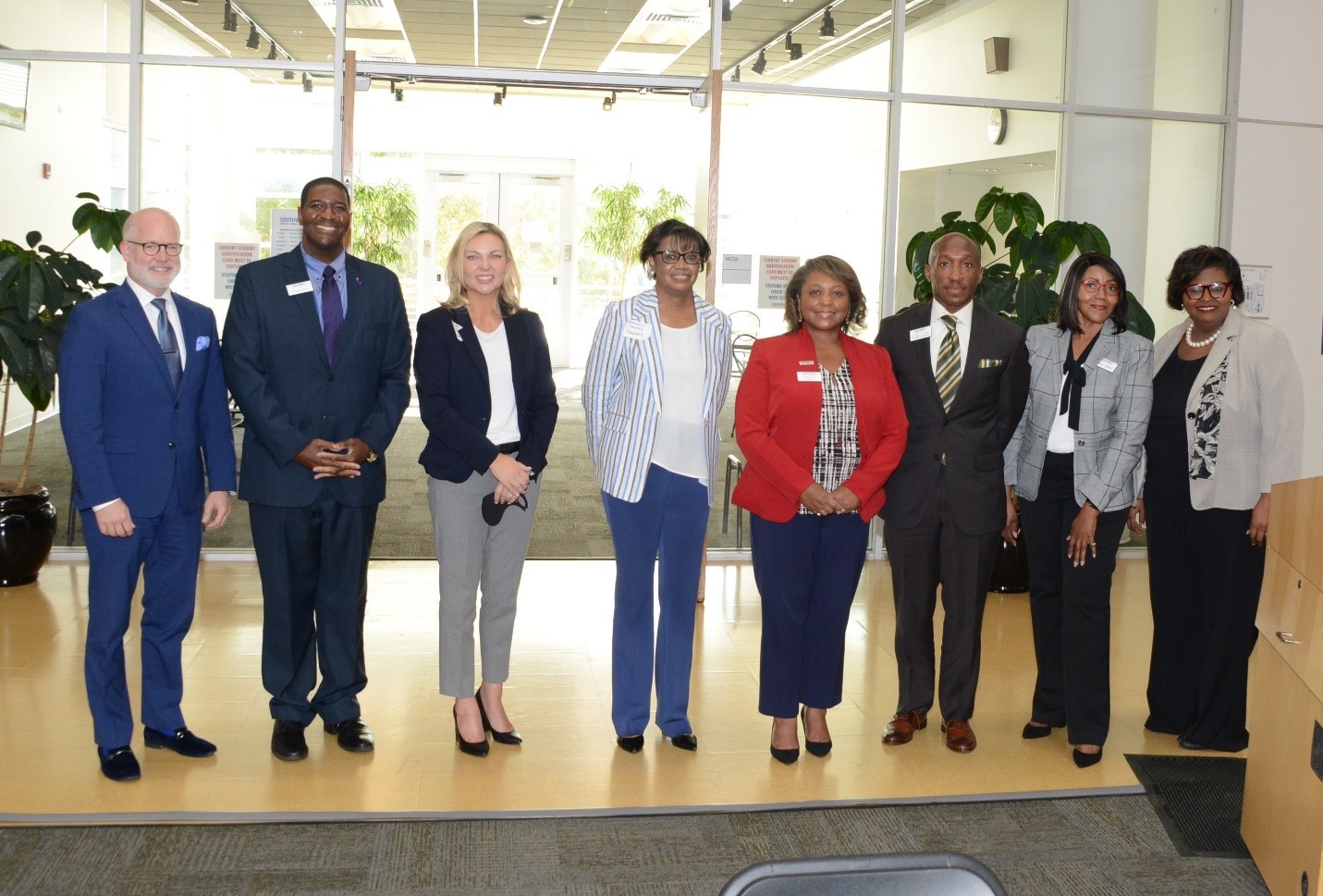 Workforce and Economic Development Panel Members at the Chairman's Circle meeting are (L-R): Ted Townsend, Dean Robin Cole, Sara Mould and Barbara Conway of Siemens, President Tracy D. Hall, VP of Academic Affairs Kendricks Hooker, Interim Executive Director of Workforce & Community Solutions Amy Shead and VP of Student Affairs Jacqueline Faulkner