Saluqis conference champs; Lady Saluqis runner up
By Keith Gentry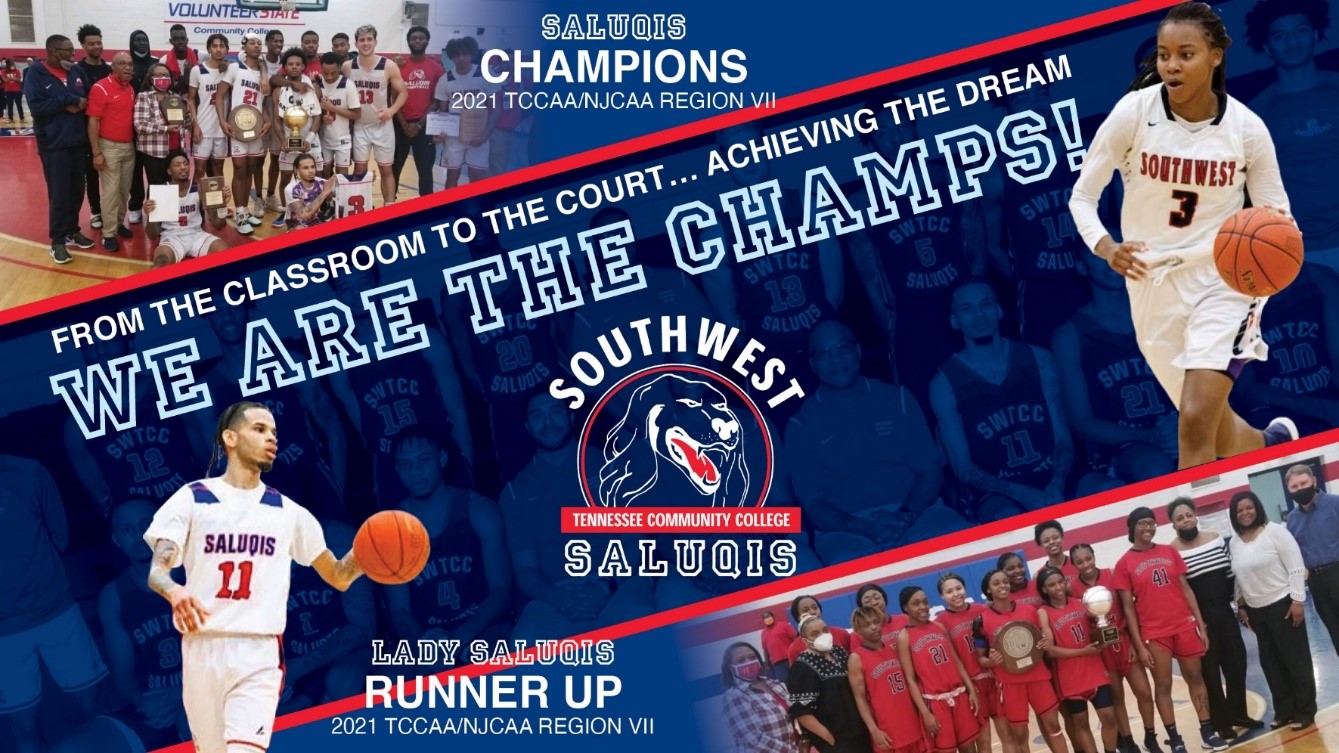 The men's basketball team defeated rival Cleveland State Community College 70-59 in overtime play April 10, 2021, in Gallatin, Tennessee, to clinch the conference championship that gave them an automatic bid to the national NJCAA tournament in Hutchinson, Kansas April 19. Under the direction of Interim Head Coach Amory Sanders and assistant coaches Quincy Harris and Anthony Hall, the team entered the tournament at peak performance, winning 8 of their last 9 games, their last four in a row.
Tournament Most Valuable Player Jamey Sanders scored 16 points and Kendrick Holland came off the bench to add 16 points and five assists (including 12 points in the second half) to lead the Saluqis to victory in the TCCAA/NJCAA Region VII championship game. Brandon Mason, the Saluqis' leading scorer on the season, scored 9 of his 11 points in overtime as Southwest outscored Cleveland State 17-6 after the game was tied at 53-53 at the end of regulation. Juan Cajelli scored five of his seven points in overtime and also was the team's leading rebounder with 10.
The Saluqis limited Cleveland State to 29.3 percent field goal shooting for the game and just 1 of 11 (9.1 percent) in the extra period. Southwest shot 40.9 percent for the game and made 6 of 7 shots in overtime for 85.7 percent.
The Southwest men came away with two of the TCCAA's major awards, as well as three all-conference honorees. Coach Sanders was named TCCAA West Division Coach of the Year and Brandon Mason was voted Most Valuable Player for the West Division. Jamey Sanders was named First Team All-TCCAA while Nikcolauz Merriweather was a second team selection. Coach Sanders also was named the NJCAA's Appalachian District Coach of the Year.
Congratulations also to the Lady Saluqis who finished runner up in the TCCAA/NJCAA Region VII Tournament. They defeated Dyersburg State Community College for their sixth straight victory to advance to the championship game where they fought hard, but came up short against Walters State Community College. Daisha Seltzer, the Lady Saluqis' leading scorer, was voted first team All-TCCAA, while second-leading scorer Taliyah Brown was a second team selection.
Congratulations to all the players and coaches! Go Saluqis!