College celebrates local legends during Women's History Month
By Diana Fedinec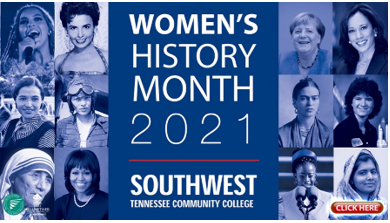 Watch the special tribute video to women
leaders featuring Southwest women leaders here.
Southwest celebrated Women's History Month March 31, 2021 with an esteemed virtual panel of local legends who have made Memphis HERstory. Coordinated by the Division of Student Affairs' Office of Student Development, the panel included Raumesh Akbari, Tennessee Senator, District 29; Tawanda Pirtle, Co-owner of Jack Pirtle's Chicken and Owner of Feelin' Memphis; Beth Flanagan, Public Policy Consultant, Flanagan Strategies; and Dr. LaSonya Hall, Deputy Chief Administrative Officer, Shelby County Government and Interim Director of the Shelby County Health Department.
Southwest President Dr. Tracy D. Hall, the college's first female president and local trailblazer in higher education, moderated the panel. "We are daughters, some of us are mothers, we are all sisters," Dr. Hall said in her opening remarks. "Through joy and pain, highs and lows, to shattered glass ceilings and heights unknown, let's celebrate us."
Since her arrival in 2015, Dr. Hall has transformed the College, increasing enrollment, narrowing achievement gaps, creating a student-centric culture and helping Southwest to garner recognition as a National Bellwether Award winner and Achieving the Dream Leader College.
That same spirit of celebration, determination and optimism was shared by each panelist as they discussed their stories of success, leadership and breaking gender barriers. From defying stereotypes to choosing a personal mission and mentors, the panel revealed several key values in life – and takeaways – from the lessons they learned during their journeys to success.
Enjoy their inspirational, thought-provoking conversation by clicking the graphic link above.