Academic master plan amps up for fall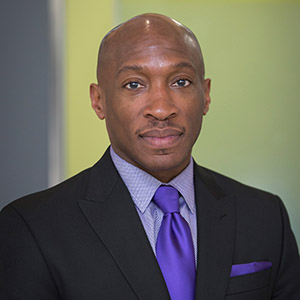 Dr. Kendricks Hooker, Vice President for
Academic Affairs
The Division of Academic Affairs hosted a virtual forum for faculty, staff and administration May 12, 2021 to gather final thoughts and feedback on the College's Academic Master Plan (AMP).
The forum signified the end of an intense 6-month process to examine and reimagine Southwest's academic enterprise for the next several years. This past October, Academic Affairs Vice President Kendricks Hooker launched the AMP process to thoroughly review Southwest's programs, practices and priorities and define its future focus based on the College's mission, vision and strategic goals. The AMP is scheduled for implementation this fall. "It will serve as the foundation for Southwest's next strategic plan, guide the College through the next five years, and will be continuously monitored and evaluated," Dr. Hooker said.
"Although the AMP guides our academic direction, it is not an Academic Affairs initiative," Hooker added. "It is a Southwest movement that impacts our students, our community and our faculty and staff. Therefore, we brought as many voices from across the institution as possible."
Hooker says feedback from faculty, staff and students was critical to the AMP's development. "I am elated about where we are and truly excited about where we are going. I thank every single person involved for getting us to this milestone. Because of you, we are closer to developing our AMP."
Throughout the plan's development, Hooker hosted small group conversations across the college with students, faculty, administrators and staff to discuss their vision for the future of academics at Southwest. Six main priority areas emerged from these conversations. To ensure the faculty voice was at the forefront, he also selected faculty co-chairs to oversee the AMP development. Raquel Adams, assistant professor in Communications, Graphics and Fine Arts and Business and Legal Studies Instructor Derrick Wheatley were chosen to lead the discussions and process. AMP Priority Teams and chairs are:
Program Process Improvement - Dr. Juliann Waits, Chair
Efficiency & Effectiveness in Operations - Dr. John Murrell, Chair
Diversity Academic Portfolio - Dr. Electa Park, Chair
Enhance Community Engagement & Collaborative Partnerships for Student Success - Darrick Slaughter, Chair
Excellence in Teaching and Learning - Dr. Frank Daniels, Chair


Online Learning – Dr. Lisa Loden, Chair
CRT & Opportunity Gaps - Macklin Gipson, Chair
SLOs/Assessments - Dr. Frank Daniels, Chair

Enhancing Student Support & Experiences - Susanna Jackson, Chair
The teams met throughout the Spring 2021 semester and hosted two college-wide forums to share their work and gather feedback. Team leaders have submitted their final reports and the faculty co-chairs are putting the final touches on the plan.
If you would like more information or to review the AMP Priority Team's work, please visit the AMP SharePoint Site or contact the Faculty Co-Chairs: Raquel Adams (radams11@southwest.tn.edu) and Dr. Derrick Wheatley (ddwheatley@southwest.tn.edu).