Historic 2021 commencement celebrates grit; Debuts Southwest alma mater
By Diana Fedinec and Daphne Thomas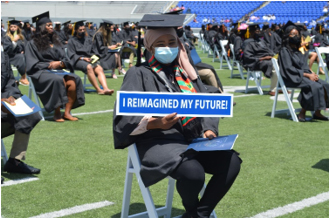 Class of 2021 graduates beam at the
College's first-ever outdoor commencement.
The 2021 Commencement held May 1 at Liberty Bowl Memorial Stadium celebrated many firsts for Southwest.
It was the first time the College held an outdoor commencement, the first graduation of the inaugural class of the Funeral Service Education Program, first time for mother-daughter duo Penny and Sophie Williams to earn a college degree and the first time for an audience to hear the College's new Alma Mater.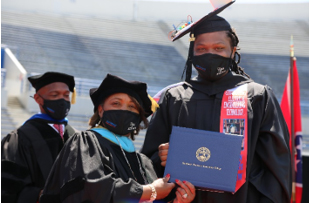 Southwest President Tracy D. Hall presents
a diploma to an engineering student.
It was a typical graduation marked by an atypical year. Southwest conferred more than 1,500 credentials. But, due to the Coronavirus pandemic, the ceremony was held outdoors to provide a safe environment in accordance with federal and local guidelines. The nearly 700 candidates for graduation who attended the ceremony wore commemorative face masks and sat socially-distanced on the field, while a limited number of attendees cheered them on from the stands.
The ceremony also was live-streamed on Facebook (@SouthwestTN) and the College's YouTube channel.
Although COVID-19 had a profound impact on the ceremony, nothing could dampen the spirits of the attendees and their supporters. Not even a traffic jam and two power outages could deter them from proudly walking across the stage to receive their diploma cover and take a historic photo with President Tracy D. Hall.
"After persevering through the pandemic, their credentials were more than degrees and certificates," Student Affairs Vice President Jacqueline Faulkner said. "They were testaments to their resilience, fortitude and courage!"
Making history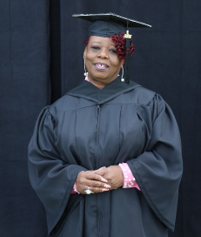 Funeral Service Education Program
graduate Trina Battle
For Trina Battle, obtaining her degree in Funeral Service Education was a lifelong ambition. "I always wanted to do this type of work and was excited to hear about a program where I could become a funeral service director," she said. Battle is one of a dozen graduates who made it through the intensive, rigorous curriculum comprised of 64 semester hours of coursework ranging from funeral home management and business law to embalming and funeral service psychology and counseling. The program debuted in January 2019 as the only publicly-funded program in West Tennessee.
"I'm very proud of these students to make it through not only a rigorous program, but to continue in a pandemic," said Ron Johnson, Funeral Service Education program chair. "They are fully equipped to start their own business, if they so choose, and with state-of-the-art skills and a knowledge of industry standards and best practices."
All in the family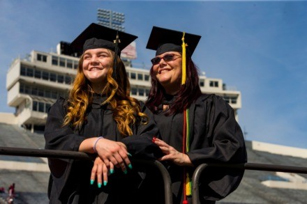 Mother and daughter duo Sophie and Penny
Williams received their first college
degrees at the 2021 Commencement.
The Williams family is Saluqi Strong! Graduates Penny and Sophie Williams had an equally rigorous curriculum to master. Both are first generation students who earned their degrees in the health care field. Penny obtained an Associate of Applied Science in Nursing and an Associate of Science in University Parallel with a concentration in General Studies, Arts and Sciences. Her daughter, Sophie, earned an Associate of Science in University Parallel with a concentration in Allied Health Sciences, Arts & Sciences.
While Sophie entered college straight from high school, it took her mother, Penny, 30 years to return to college to pursue a nursing degree. During her first stint in college, Penny was working toward a 4-year nursing degree, but had to stop due to the early arrival of her baby. A mother of five children who homeschooled her children, Penny was determined to not let anything stop her from walking across the commencement stage with her daughter. Her Memphis grit was evident from the start of the program when she checked herself out of the hospital to take the important HESI test in nursing. During her two years at Southwest, she was diagnosed with leukemia and underwent two back surgeries. "I'm so excited to receive this degree with Sophie," Penny said. "We both worked hard and here we are today! Don't ever give up on your dreams!"
Penny's five children share her drive for academic achievement and affection for Southwest. Besides Sophie, her son, Noah, is a dual enrollment student at Southwest and her eldest graduated from Southwest in 2011 with an Associate of Arts Degree in Computer Graphics.
At the very core of this year's graduates was a determination to succeed. In the words of the College's new Alma Mater, they epitomized the resilience of Southwest students who "through trial and err, with zest and care," kept their focus. Special thanks to Associate Professor of Communications, Graphics and Fine Arts, Valetta Brinson, and instructor Martin Wakefield and students Annisha Weddington and Ronald Davis who composed the words to the Alma Mater, and to Brinson and Memphis songwriter Kevin Sanford for their musical arrangement.
Congratulations to student commencement speaker Safari Love for his words of wisdom; Professor Hannah Province, recipient of the William F. Farris Faculty Service Award; and to Stanley J. Blue, Alumnus of the Year.
To view the graduation in its entirety on-demand via the College's YouTube Channel, click here.
To view and download the 2020-2021 Commencement program, click here.
Click on the graphic below to enjoy a pictorial tribute to the Class of 2021!