2021 Earth Day Dash goes virtual!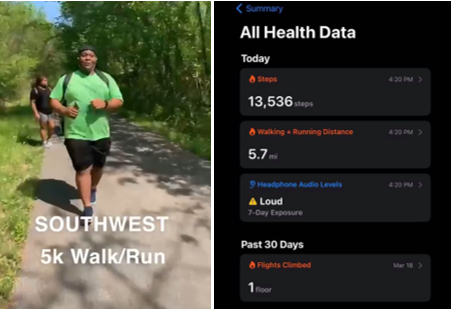 Octavious Blakley shared his Earth Day Dash
experience and run time on Southwest's Facebook
page. Thanks, Octavious!
By Diana Fedinec
The Science Club hosted its first-ever virtual Earth Day Dash during Earth Week, April 18-23. Though the Coronavirus pandemic prevented participants from running and walking together in person, seventy-four registrants signed up to celebrate Mother Earth on their own time and in their own natural spaces.
Last year's event was canceled as the pandemic shut down all social activities. "Having a virtual 5K this year gave participants an opportunity to get outdoors in nature with friends and family while feeling safe during the pandemic," Dr. Joyce Johnson, Associate Professor of Natural Sciences and Science Club Advisor said. Each participant received an Earth Day Dash t-shirt that heralded this year's theme, "Restore the Earth."
During the weeklong event, participants shared photos and run/walk times on Southwest's Facebook page using the hashtag #SouthwestEarthDayDash2021. The Club also posted daily facts about the environment, recycling tips and inspirational messages from well-known authors and advocates of the environment.
The Science Club sponsors the 5K to raise money for its student-created projects that center around environmental awareness. "The event also raises awareness about environmental issues that impact our city," Johnson said. "Taking care of our environment is a community effort and the club members want our campus community to take the time to stop and think about the air, land, and water we use every day."
Johnson said that next year, the Club hopes to return the event to its traditional green space on the beautiful Macon Cove Campus. "For our first-ever virtual event, we were very pleased with the turn out and thankful for the campus community's response and participation."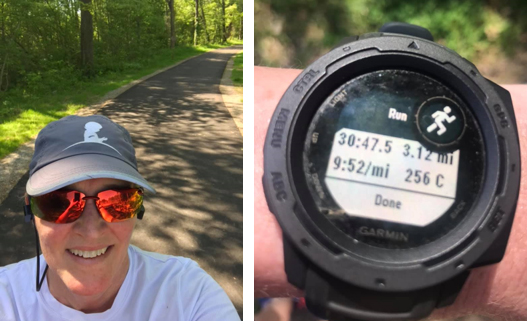 Emily Ford shared her #SouthwestEarthDayDash2021 results! Way to go, Emily!