International Studies takes students on global virtual trip
By Diana Fedinec and Jessica Miller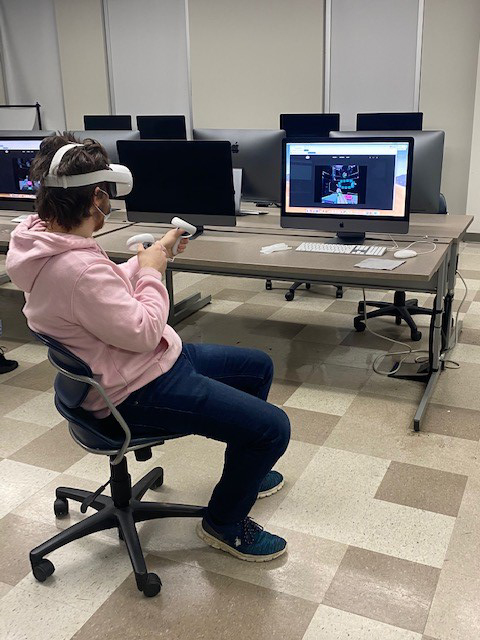 Dylan Hartmann navigates his virtual
reality tour on an Apple computer
using an Oculus Quest 2 headset.
When the Coronavirus pandemic hit in March 2020, one of the first safety measures enacted by the COVID-19 Task Force was to halt all local, national and international College-related travel. The decision actuely impacted the International Studies Program as students were preparing to study abroad.
The pandemic may have disrupted international travel, but it did not stop international study. The International Studies Department launched a new virtual curriculum that allowed students to travel from the safety of a PC or laptop. "COVID-19 may have shut down borders, but it opened a gateway for students to expand their horizons and connect with people from different cultures through a new virtual reality (VR) study abroad program," IS Program Coordinator Jessica Miller said. "We have a responsibility to find safe and enjoyable ways to continue our international studies mission," Miller said. "Virtual technology is a safe, innovative way to internationalize student experiences and promote cultural awareness."
Miller and several faculty launched the virtual experience with a $14,000 Student Success Council Innovation Grant in Fall 2020. They developed a series of virtual reality or VR courses that aligned with the College's study abroad curriculum. They trained students on how to use the virtual reality technology and allowed them to test the equipment. With positive feedback from the students, the VR courses took flight in Spring 2021. Throughout the semester, students "visited" Greece, Italy, London, Paris, Dubi, Japan and other cities and countries where they attended art museums, historical museums and classical musical concerts, interacted with locals, and more.
Miller said she was inspired to bring the VR experience to students after reading an article about it that included this quote by Chris Milk: "Virtual reality is a technology that could actually allow you to connect on a real human level, soul-to-soul, regardless of where you are in the world."
The students were awestruck by the technology. "The experience that I encountered was out of this world," Southwest Student Robert Meeks said. "I am speechless. The stuff that I did in VR was mind blowing."
The VR coursework was taught online and in-person. Students were required to sign up for labs at the Macon Cove Campus where they used Apple Computers and Oculus Quest 2 headsets to immerse themselves in the virtual reality experience.
Incorporating this new technology into the IS curriculum brought more than international experiential learning to students. It also closed the equity gap for students who would not otherwise be able to afford a trip abroad. "International studies empower students to develop a broader understanding of the world, which ultimately can impact the way they interact with others and even on the job," Miller said. "I am excited we can now offer this meaningful experience to those with financial barriers, travel-related fears, or those intrigued by new technologies."
The IS program plans to expand its course offerings using the virtual technology. For more information about study abroad and VR courses, contact Jessica Miller at jtmiller6@southwest.tn.edu.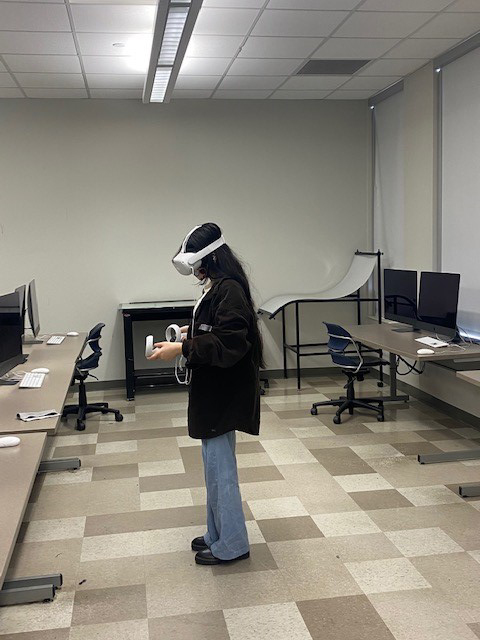 Amena Chaudhry attends a virtual reality lab wearing an Oculus Quest 2 headset.