Southwest and White House team up for Juneteenth vaccination event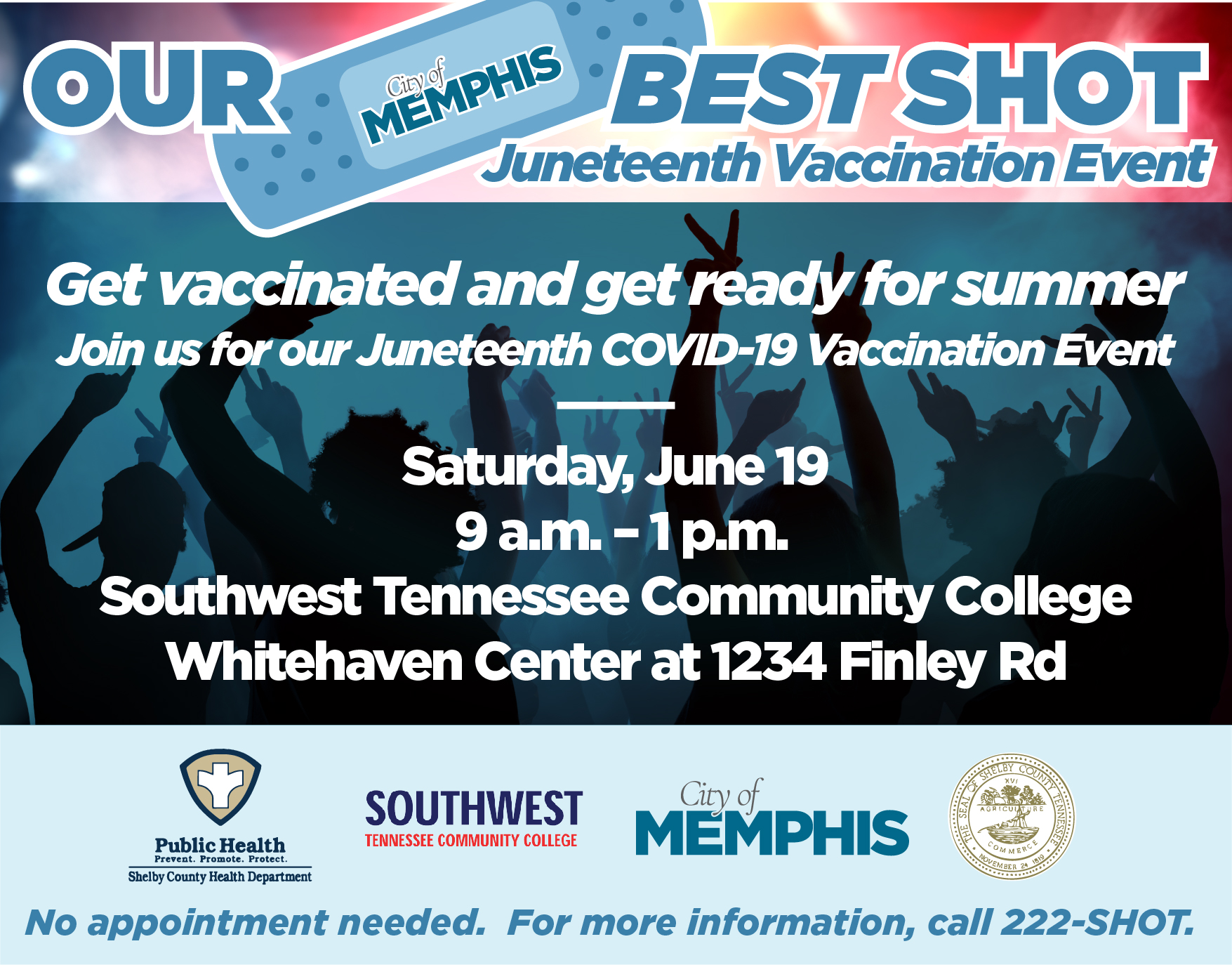 Southwest has teamed up with the White House, City of Memphis, Shelby County Health Department and State of Tennessee to celebrate Juneteenth on June 19, with a drive-thru COVID-19 vaccination event at the Whitehaven Center, 1234 Finley.
The event is one of dozens of vaccination pop-up events the White House is presenting across the country to get the COVID-19 vaccine to every American. The goal is to empower residents to protect themselves and others from the virus and safely get back to life as we knew it before the pandemic.
"We are committed to doing all we can to help our country reach herd immunity, stay healthy and get back to normal safely," Southwest President Tracy D. Hall said. "We are the community's college and proud to serve in this life-saving effort."
Families are encouraged to get ready for summer fun by getting vaccinated. It is also a great opportunity for Southwest students to get a jump on getting vaccinated for fall semester when the college fully returns to on-campus operations. Vaccinations are not required but recommended for students and employees.
"Getting vaccinated is the key to getting our lives back to normal and beating this virus," Shelby County Medical Director Dr. Bruce Randolph said. Shelby County Health Department Interim Director Dr. LaSonya Hall says all the government agencies are pulling together for this effort. "Events like this one are critical to raise awareness and allow us to do our part to help President Biden reach the goal of 160 million vaccinated Americans by the July 4 holiday."
To date, residents 12 years and older are eligible to receive a COVID-19 vaccine. The Whitehaven Center vaccination site offers first or second doses of the Pfizer vaccine without an appointment, 9:00 a.m. – 1:00 p.m.
To learn more about the available vaccination locations, visit the City of Memphis COVID-19 webpage at https://covid19.memphistn.gov/.
For the latest health department information and Shelby County's response to COVID-19, visit http://Shelby.Community.
For Southwest's response to COVID-19, visit the college's coronavirus website at www.southwest.tn.edu/coronavirus.