Southwest welcomes new social services coordinator
By Diana Fedinec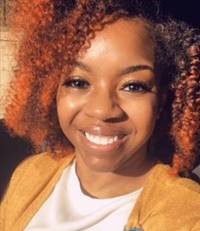 Sharael Royal
Welcome to Sharael Royal! Royal joined Southwest as the new social services coordinator April 16, 2021. She brings a diverse portfolio of professional experience helping youth and adults manage and overcome a wide range of emotional, psychological and behavioral challenges.
From the time she entered college, Royal was laser-focused on her passion for helping people and building an educational foundation to support her life's mission work. She earned a bachelor's in psychology from Alcorn State University in 2013 where she was a member of the ASU track team, cheerleading squad and Zeta Phi Beta Sorority. She earned a master's in counseling psychology from Alabama A&M University in 2016.
After completing her post-secondary credentials, Royal worked as a community-based therapist for children in Amite, Louisiana. She relocated to Memphis in 2017 to work for Youth Villages as a master's level clinical liaison, master's level counselor and lead residential counselor. There she assisted boys ages 10 to 17 who had emotional and psychological issues, traumatic backgrounds and delinquent behaviors. While at Youth Villages, Royal earned a certification in Autism Studies at the University of Memphis. She also accepted a position as an admissions assessor at Lakeside Behavioral Health Systems where she gained additional experience working with adults, the elderly and individuals in highly acute mental crisis.
Royal has a strong knowledge of therapeutic interventions that will aid in counseling students and providing them with the resources they need to ensure their mental, physical and social well-being. She has experience using such evidenced based models as trauma-focused cognitive behavioral therapy, collaborative problem solving, motivational interviewing, cognitive behavioral therapy and solution focused therapy.
Her immediate goals are to build a rapport with students and assess their needs, while generating greater awareness of the services offered by the Counseling and Social Services department.
Royal is the youngest of six children raised in Magnolia, Mississippi, a small town in southern Mississippi. "I understand how important it is to have a strong support system throughout your academic journey," Royal said. "I was fortunate to have a supportive group of people cheering me on through the highs and lows of attaining my credentials. I look forward to providing a network of supports and resources for our students so they, too, will feel empowered to complete their education and achieve their dream careers."
If you would like to welcome Sharael Royal to her new role, contact her at smroyal@southwest.tn.edu.
Welcome aboard, Sharael!