New guide helps students navigate their career journey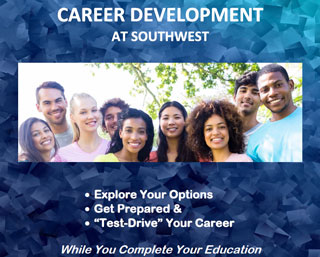 Career Services has produced a new digital career guide called "10 Career Development Steps to Success" to help keep students on track while they explore, choose, and prepare for a rewarding career while attending Southwest.
Created specifically for 2-year college students to complement their classroom training, the guide encourages students to proactively plan for their future by completing a few steps each semester. As they complete the 10 steps to success, students will develop their career readiness skills and build proficiency in competency areas that employers are looking for, such as communication, critical thinking, teamwork, and digital technology that will help them succeed after graduation.
The guide also can be used as a resource for advisors, faculty mentors and others who work to mentor and inspire students to achieve their career goals.
Access the Career Guide today!