Allied Health students mask up and move forward during the pandemic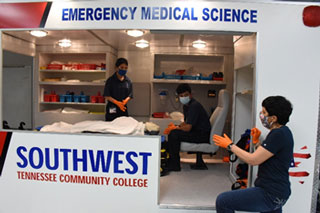 Despite the challenges COVID-19 has brought to the college learning environment, students and faculty at Southwest are persevering through their classes while staying healthy. Learning and teaching through the pandemic has been especially interesting for the allied health sciences division where in-person skills training is required.
Many of the allied health sciences classes have been hybrid, with lecture-based instruction taking place through MS Teams and Zoom meetings, while lab and hands-on skills training take place on campus. For example, a typical day for Emergency Medical Technician students begins with a virtual meeting followed by breakout work groups in the classroom where they put their cognitive skills into action.
Throughout their new normal of learning, students and faculty have eagerly adhered to the college's safety protocols by masking up, wearing gloves, using hand sanitizer, social distancing, and sanitizing work areas and equipment. "All of us want to stay healthy and are taking the necessary precautions against the Coronavirus," EMT Assistant Professor Rachel Trigg said. "Our students are very diligent about keeping safe – they want to finish their education," she said. "And I want them to succeed so they can go out into the world fully trained, equipped and ready to serve our communities as EMS providers."
Allied Health Associate Professor Shilpa Desai said her students in the Medical Laboratory Technology program successfully completed in-person labs with everyone staying healthy. She ensured all instructors and students had the necessary PPE, including face shields as an added layer of protection. "I am proud of the way our students adapted to their learning during the pandemic and their commitment to complete their coursework and continue their education," Desai said. "We all worked as a team and followed the college's strict safety protocols so we could end the semester in good health."
Health care professionals understand the risks inherent in their profession. For the allied health students, practicing safety precautions during a pandemic has prepared them to face extraordinary circumstances during a public health crisis. True to the calling of their profession, they placed their passion for wanting to help others as the motivating force to complete their courses.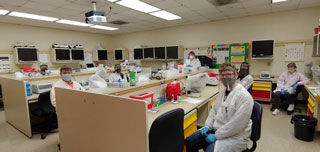 Students in the fall semester 2020 Medical Laboratory Technology Urinalysis/Body Fluids class are suited up to learn sitting 6 feet apart with face masks, face shields and gloves.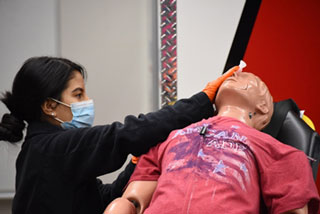 Liliana Mendez sanitizes her patient-mannequin for use by the next EMT student.