Southwest voted Best Technical College; Places second as Best Regional College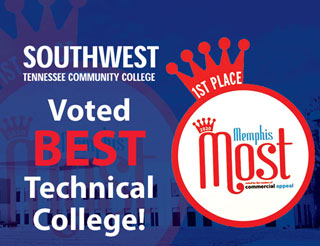 Each year the Commercial Appeal and Memphis Flyer hold contests where they ask their readers to vote for their favorites in the city. Readers pick their favorite in more than 100 categories ranging from food and drink, goods and services and much more.
Southwest scored a win in The Commercial Appeal's Most of Memphis awards for Best Technical College ahead of Moore Tech and Tennessee College of Technology at Memphis. Shortly thereafter, readers of the Memphis Flyer voted the college number two in the Flyer's Best of Memphis poll in the Best Regional College category behind the University of Memphis and ahead of Rhodes College.
"This is an amazing affirmation of our efforts and achievements as we have reimagined Southwest over the past five years," Southwest President Tracy D. Hall said. "We set out to transform the student experience and this public, citywide recognition means people are taking notice.
Thank you to our Southwest students, faculty, staff, alumni and supporters for your support!