Student Development gets creative to engage and connect with students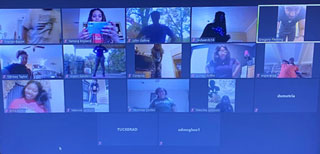 "Since students are studying remotely at home, we first thought about ways to keep them healthy," said Tamera Boyland, Student Development coordinator. "We all know how easy it is to pack on the "Covid 19" pounds, so we added a student fitness program called "Saluqi Fitness" that was offered once a month during fall semester 2020 and will resume in spring semester." The sessions were held virtually via Zoom and led by professional trainers from BestBody Fitness located in Downtown Memphis.
The Nov. 9 fitness session offered giveaways. The first twenty students to participate were awarded a free fitness tracker that was mailed to their homes. "After the session was over, we received several emails from students who were overjoyed at receiving professional training sessions at no cost to them," Boyland added. "The participation was great!"
Virtual Playlist Bingo on Nov. 10 was another exciting and unique virtual event enjoyed by students. The event was held during evening hours to allow both day and evening students the opportunity to participate together. This version of bingo was not your typical bingo board game. Instead of bingo numbers called by the host, tracks from songs were played and participants who could identify the singers would mark that artist off their bingo card on their mobile device. Four winners received $50 sent to them electronically from the game vendor.
"We want students to know that even though we are in difficult times, we are here working to make their college experience as engaging and great as possible," Boyland said. If you have an idea for for student engagement, the Student Development office would like to hear from you. Contact Student Development Director Phoenix Worthy at pworthy@southwest.tn.edu.